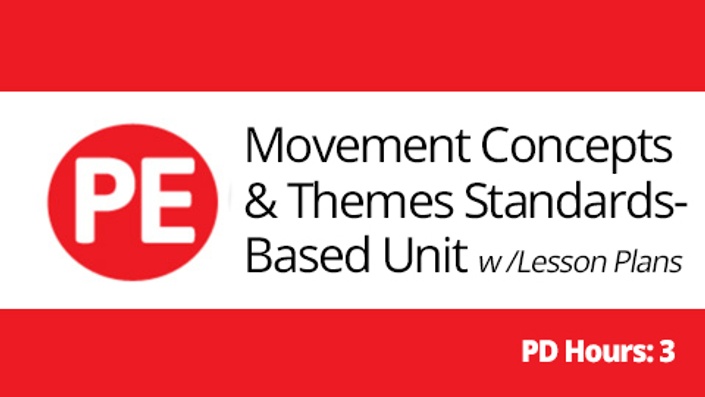 Movement Concepts and Themes Standards-Based Unit with Lesson Plans
Aligning Content Standards, Assessment, Goals, Objectives and Instructional Strategies
Testimonials

I really enjoyed this course. Being able see other educators discussion answers was very helpful. It allowed me to see what works for other teachers and gave me some new ideas to be able to incorporate into my class. - Phillip B.


"This course was beneficial to me. I will be able to take the sample lessons and incorporate them into my own."
Welcome!

We are excited about your interest in taking this Movement Concepts and Themes Standards-Based Unit with Lesson Plans Course from PE Central. Below you will find a brief course description, the instructor's biography, and course FAQ's. We estimate that this course will take 3 hours to complete. Once you have completed it, you may request the 3 hours towards your teacher licensure recertification.
We know you will find this course valuable and enjoyable. If you have any questions please email us at [email protected]
Best of Luck!
Mark Manross, Executive Director, PE Central


Course Goals:


1. To align key sections of a physical education unit of study, with lesson plans.
2. To collaborate with "experts" in the physical education profession; those teaching in the physical education classroom.
Target Audience: We have designed this e-course for elementary physical education teachers; however, teachers from all grade levels would learn about alignment from this course. Because physical educators have first-hand experience teaching physical education content and insight into credible resources they are the perfect audience. The end result is knowledge merging from teachers (experts in their profession) sharing multiple perspectives that can be included in the Movement Concepts and Themes Unit with Lesson Plans

Course Purpose: The purpose of this e-course is to introduce physical educators to aligning key sections of a unit of study (a) content standards, (b) assessments, (c) goals, (d) objectives, and (e) instructional strategies.
Course Description: This online course will be based on an online discussion style format between the instructor and participants. A partial Movement Concepts and Themes Unit with lesson plans will be provided. Participants will use the discussion forum to share ideas with classmates that will revise and complete the partial unit of study.
To ensure the goals are met, the following template is provided:
Unit
• Content Standards:
• Learning Goals:
• Resources:

Lesson plans
• Learning Objectives:
• Cues:
• Equipment:
• Organization:
• Instructional Strategies (script form):
• Differentiated Instruction

Assessments:
Learning Goals, Learning Objectives, Cues, Equipment, Organization, and Differentiated Instruction have been completed for the unit of study. Participants will be asked to revise Content Standards, Instructional Strategies, and Assessments for the unit of study. The end results will be a ready-to-use teacher-created and student-approved Movement Concept and Themes
Each component of the template will be completed using the National Physical Education Standards that define what a student should know and be able to do as a result of a unit of study (standards-based education): http://www.shapeamerica.org/standards/pe/.
Course Objectives:
On the completion of this course, participants will be able to:
Create instructional strategies that are used to reinforce skills taught and meet the objectives written for the Movement Concept and Themes Unit with Lesson Plans.
Find or develop a sample assessment that demonstrates what students do know and can do as a result of learned content.
Promote critical thinking skills through collaboration with peers.
Cite credible resources used for the physical education unit of study.
Common core standards emphasize the importance of critical thinking; and, collaborative learning promotes critical thinking. Therefore, a discussion style learning environment was selected for this e-course (an online collaborative format).
Need to get your Professional Development Credits approved by administration? Download the course description to provide them here.
Your Instructor
Renae holds a Master of Science in Education Degree from Wayne State College and a Bachelor's Degree in Health and Physical Education from Westmar University.
She has taught in a public school for 31 years and online for 16 years, specializing in Education, Physical Education, Health, and Psychology. Renae has authored and published a children's fitness program; and, is a Managing Editor for PE Central (an online resource for Health and Physical Educators).
Check out Frequently Asked Questions Here!
(You will be prompted to enroll for free in the S&S Online School)