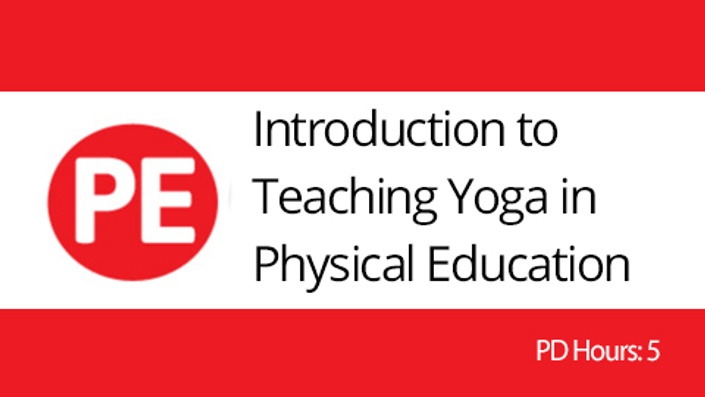 Introduction to Teaching Yoga in Physical Education
Learn the Basics of Incorporating Yoga in Your Program
Testimonials:
"This course was fantastic! I specifically loved the list of online resources. The pictures of the yoga poses are very helpful. I knew most of the poses, but great to show and point out for my students. I loved the teaching on the breathing and calming my students and when to be quiet and when to talk for optimal listening retention. I can't wait to get started with my classes. I will start using the video option with my older students and I will lead my younger students through the lesson using the "game idea". I will try leading the middle school kids once I get my confidence up with the littles. Hopefully I can get them hooked."
"I enjoyed taking this course. I have completed my classes before using Yoga in class warm ups. I would watch videos and read from different resources and create my own warm up. The most beneficial thing I took away from this class was the resources it provided. It assists in displaying each Yoga pose and the specific health benefits. Thank you for the specific information that added to my library of Yoga. - Teresa R.
Welcome!

We are excited about your interest in taking this online course. Below you will find a brief course description, the instructor's biography, and course FAQ's. We estimate that this course will take 5 hours to complete. Once you have completed, you will be issued a certificate of completion for 5hours. There is NO graduate credit or CEU's available for completing this course.
We know you will find this course valuable and enjoyable. If you have any questions please email us at "[email protected]".
Best of Luck!
Mark Manross, Executive Director, PE Central
---
Target Audience:
This course has been designed for K-12 physical education teachers who want to 1) learn more about the importance of teaching yoga in the physical education classroom 2) discover a variety of ways to include yoga in their curriculum, and 3) improve teaching methods when implementing yoga in their classroom.
Course Purpose/Objectives:
The course explores and demonstrates practical ways to integrate the mental and physical aspects of yoga into everyday physical education lesson activities. Objectives include:
Analyze the benefits and importance that yoga skills have in a physical education classroom.

Discover innovative and practical methods to equip teachers in implementing yoga with their students.

Understand how to write an appropriate lesson incorporating yoga in their curriculum.

Learn how to implement yoga skills in the classroom using a variety of technology applications.

Understand the basic poses needed to teach yoga successfully in a K-12 classroom.
Learning Outcomes
After completing this course, users will be able to:
Explain why yoga is important and beneficial to teach in a K-12 classroom.

Identify the necessary poses needed to teach yoga in a K-12 classroom.

Develop an appropriate lesson plan to implement yoga in a K-12 classroom.

Identify a variety of pedagogical strategies to teach yoga successfully in a K-12 classroom.
Course Description:
Yoga has become a very popular form of exercise that affects both the mental and physical aspects of an individual. Research suggests that individuals of all ages should benefit from participating in yoga and that yoga is considered a lifetime physical activity. Physical education programs would certainly benefit by introducing students to yoga skills. However, many teachers do not feel comfortable or understand how to appropriately implement yoga in their classroom. This course is designed to assist teachers in understanding the value yoga can have in their curriculum as well as help them learn a variety of teaching strategies they can use when incorporating yoga in the classroom. Teachers will leave this course with a better vision of what a lesson or unit may look like with yoga, technology concepts when implementing yoga, a variety of necessary poses too explore, as well as the mental benefits associated with breathing techniques.
Course Credit: 5 PD hours. Course is estimated to take 5 hours to complete.
Standards:
This course addresses the following standards (Source: SHAPE America National Standards https://www.shapeamerica.org/standards/)
Physical Education – The physically literate individual:
Standard 1: Demonstrates competency in a variety of motor skills and movement patterns.
Standard 2: Applies knowledge of concepts, principles, strategies, and tactics related to movement and performance.
Standard 3: The physically literate individual demonstrates the knowledge and skills to achieve and maintain a health-enhancing level of physical activity and fitness.
Standard 4: Exhibits responsible personal and social behavior that respects self and others.
Standard 5: Recognizes the value of physical activity for health, enjoyment, challenge, self-expression and/or social interaction.
Viewing External Content:
At times throughout the course students will be instructed to visit external sites to view videos and/or articles. Each time external content will open in a new, separate window which will require students to close when completed and return to the course.
Course Design/Schedule:
This course is designed to present information that students can customize and use in ways that are practical for their personal teaching approach/situations and to meet their students' needs. The course is self-paced, and assignments include watching short videos, participating in discussion board posts, and creating a lesson plan.
Technology Needed to Complete this Course:
You will need a computer or a tablet with an updated browser and Adobe Flash Player to complete this course. In addition, you will need a valid email address.
Need to get your Professional Development Hours approved by your administration? Download this one page course description.

Your Instructor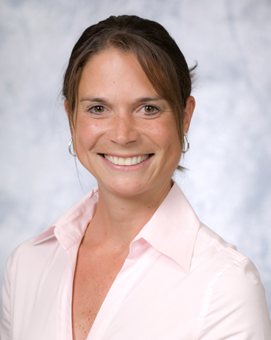 Dr. Lisa Witherspoon is a Adjunct Instructor at Tennessee Tech University and a former Assistant Professor at The University of South Florida in the Department of Teaching and Learning. Dr. Witherspoon is an international expert on the subject of technology driven games and exercise with a grounded passion in using technology to reach children in the 21st century. In addition, she serves on National committees and Advisory Boards related to physical education, technology, active gaming, sports and fitness concepts. She was elected as an Inaugural iTeach Fellow at the University of South Florida to assist future teachers and current faculty in using technology in the classroom. Dr. Witherspoon is in the Virginia Tech University Hall of Fame, Catawba Valley Hall of Fame, Newton-Conover Hall of Fame, and was inducted into the ACC Legends class of 2011 for women's basketball. She has designed and implemented various basketball camps all over the country to help young athletes acquire the fundamental skills necessary to feel confident and competent to progress in movement development. Her continued passion is to meet generations where they are in terms of interests and desires in order to help guide individuals in gaining and/or maintaining physically active lifestyles. She teaches 3 other graduate courses for PE Central.