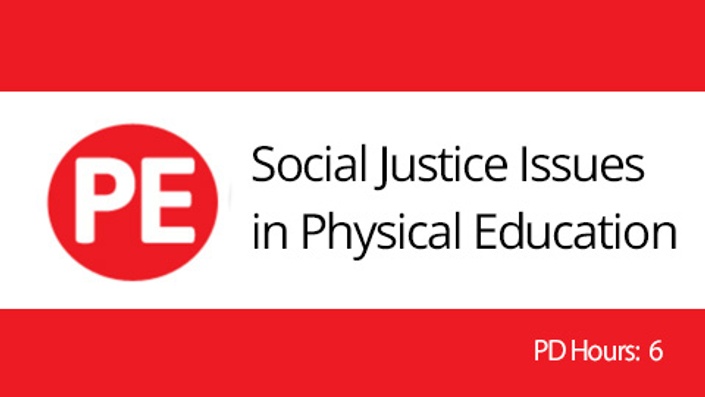 Social Justice Issues in Physical Education
An Introduction to Understanding Social Justice Issues in PE
Testimonials:
This is a wonderful course. The articles are fantastic. I learned a ton, and I am definitely going to refine my instruction. I am already good at listening to the students' voices, and making changes to my teaching and curriculum. However, I love the idea of engaging the students in creating lessons and designing curriculum. Last year, during the pandemic when I had very few students in person toward the end of the school year, I gave a lot more choices. I have 42 students in a class right now, and we are getting to know each other, so I think it would be fun to shift it up and give them more opportunities to lead and take charge. Thank you so much for this course. ~ Laurel G.

Welcome!

We are excited about your interest in taking this online course. Below you will find a brief course description, the instructor's biography, and course FAQ's. We estimate that this course will take 6 hours to complete. Once you have completed, you will be issued a certificate of completion for 6 hours. There is no graduate credit or CEU's available for completing this course.
We know you will find this course valuable and enjoyable. If you have any questions please email us at "[email protected]".
Best of Luck!
Mark Manross, Executive Director, PE Central
Target Audience
This course is designed for physical education teachers at the elementary, middle, and high school levels. For this course, we focus on a basic understanding of social justice, the intersection of social justice and physical education, and the considerations necessary to apply social justice strategies to teaching physical education. This includes the ability to recognize issues within your specific teaching context and explore strategies to address them. Our instructor is here to help you throughout the course.
Course Purpose

The purpose of this course is to increase students' awareness, knowledge, and critical skills related to social justice in the K-12 physical education setting. This course aims to provide K-12 physical education teachers with exposure to resources and ideas on how to address social justice issues in a physical education setting.
Course Description
We commonly hear the term social justice used to broadly describe the need for society at large to treat individuals equitably. To educators, social justice is about treating all students equitably so that they feel safe and secure—physically and psychologically. Bringing social justice into schools shines a spotlight on all sorts of important societal issues such as race, ethnicity, ability, and socioeconomic status among others. Identifying and addressing social justice issues in the physical education classroom is necessary at all grade levels.
Creating an environment that supports student growth and exploration can be a daunting undertaking especially when the topics of conversation are challenging. The course readings, related resources, and assignments are designed to allow students to recognize social justice issues and explore the knowledge base that underlies skills needed to work towards creating socially just K-12 physical education classrooms.
The three modules of the course are:
Introduction to Social Justice Issues
Creating a Safe, Respectful and Inclusive Setting
Social Justice & Adapted PE
Reflection and Your Program
Course Objectives
On completion of this course, physical educators will be able:
●To identify key components of social justice.
●To understand the components of social justice and how they relate to the physical education setting.
●To recognize barriers to social justice in a physical education setting.
●To reflect on social justice issues in relation to personal physical education settings.
●Recognize circumstances that create dehumanization in the physical education setting.
●Identify strategies that build a more inclusive, humanizing physical education setting.
●Recognize social justice concepts in relation to adapted physical education.
●Understand language use and its connection to social justice.
●Identify and apply strategies that address social justice issues in the present physical education setting.
Standards
This course addresses the following SHAPE America National Standards for K-12 Physical Education (2016).
Standard 4 - The physically literate individual exhibits responsible personal and social behavior that respects self and others.
Standard 5 - The physically literate individual recognizes the value of physical activity for health, enjoyment, challenge, self-expression, and/or social interaction.
Need to get your Professional Development Hours approved by your administration? Download this one page course description.

Your Instructor
Dean Ravizza is a Professor in the Department of Secondary & Physical Education at Salisbury University. He teaches courses in the Physical Education Teacher Education program area and directs the Adapted Physical Education Teaching & Learning Lab. He has worked for nearly twenty years to advance the uses of sport for children and youth in armed conflict, refugee children and youth, and other vulnerable children. He named a USM Regents' Professor of Excellence in Public Service for extensive local and international community-based work to further the uses of sport to mobilize vulnerable children and youth from different backgrounds to promote social inclusion of diverse groups and engage in peacebuilding and conflict resolution efforts.