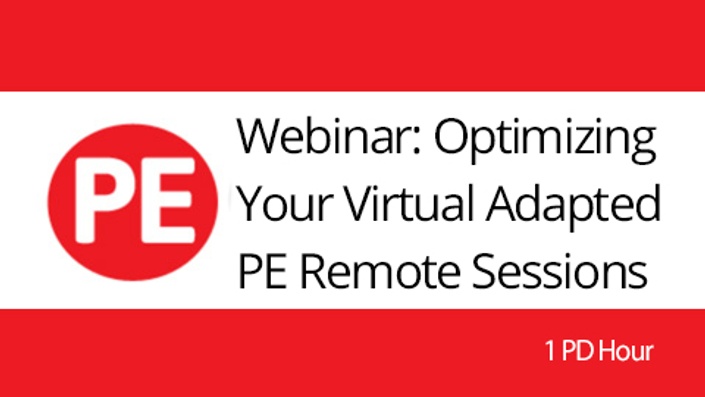 WEBINAR: The Successful Switch: Optimizing Your Virtual Adapted PE Remote Sessions
Tips and Strategies for Teaching Adapted PE Sessions Remotely
Thanks very much for the presentation tonight! I am an Adapted PE teacher grades Pre-K -12 and have several students who are currently learning remotely. Many ideas that you presented will be very helpful with my approach and facilitation of the virtual classes (beginning tomorrow!) - Julie M., Adapted PE Teacher
The Successful Switch: Optimizing Your Virtual Adapted PE Sessions

Description: This webinar from PE Central/S&S Worldwide was recorded live on the evening of Thursday, Dec. 3, 2020. Presenter Eric Chessen, founder of Autism Fitness shared a number of great ideas on how to optimize your Adapted PE sessions while teaching remotely. This is a 1 hour recorded Zoom presentation.
Topics Covered in Webinar:
Exercise selection and programming

The keys to on-task behavior

The 1 thing that can enhance any session

Measuring success

Coaching and cueing strategies that actually work
To get a full understanding of Eric's program and access videos and learn more about working successfully with autistic children in a movement setting, sign up for Eric's online course called Adapted PE Programming for the Autistic Population, which is in the PE Central Online School.
Credit:
Upon completion of watching at least 90% of the video and after you click on Complete and Continue button you will be emailed a Certificate of Completion which will indicate you earned 1 PD hour of credit. The webinar is worth no CEU or graduate credit.
Your Instructor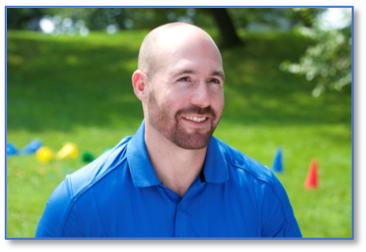 Eric Chessen, M.S. is the Founder of Autism Fitness. An Exercise Physiologist with an extensive background in Applied Behavior Analysis (ABA), Eric has spent nearly 20 years developing successful fitness and adapted PE programs. Eric is the creator of the PAC Profile Assessment and Method along with the Autism Fitness Certification. He resides in Charlotte, NC (by way of New York) where he works with his 1-to-1 athletes. Eric offers consulting and staff training worldwide. Visit AutismFitness.com to become and Autism Fitness Certified Pro.