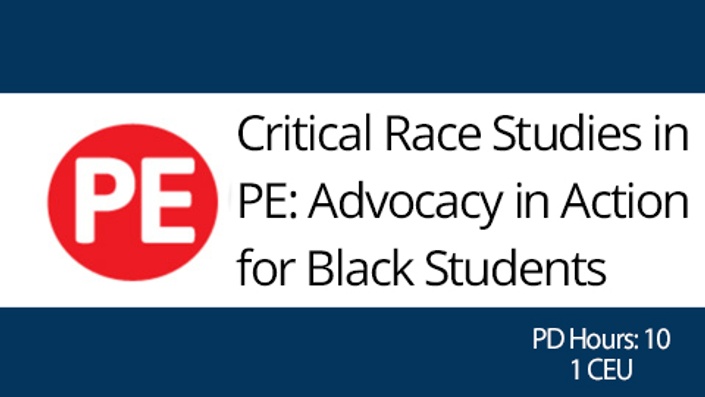 Critical Race Studies in Physical Education: Advocacy in Action for Black Students
Welcome!

We are excited about your interest in taking this online course. Below you will find a brief course description and the two instructor's biographies. We estimate that this course will take 10 hours to complete. 1 CEU credit can be purchased from Adams State University at an extra charge. Make sure to register for this while taking the course. There is a link in the LMS under all of the assignments. There is no book to purchase with this course.
We know you will find this course valuable and enjoyable. If you have any questions, please email us at "[email protected]".
Best of Luck!
Mark Manross, PE Central Online School and Human Kinetics Acquisitions Editor
Target Audience
K-12 physical educators, recreation and sport leaders, and others interested in youth development.
Course Objectives
Upon completion of this course, participants will be able to
Understand anti-Black societal practices that view Black bodies as expendable.
Recognize hidden curriculum practices and the racialization of space.
Practice anti-racist teaching strategies that affirm the worth of Black students.
Reflect on measurable actions that foster social justice.
Course Description
This course is designed around eight case studies inspired by true events. Each case study addresses the effects of anti-Black institutional policies and legislation (e.g., slavery, Jim Crow) related to schooling that has undermined the liberation of Black youth. Course participants will be presented with information to help them reflect and challenge biases, as they explore notions of diversity, human dignity, social justice, and democratic citizenship for Black youth and the Black experience through: 1) understanding anti-Black societal practices regarding the body, 2) curriculum practices and interpretations of space, 3) practicing anti-racist teaching strategies that affirm the worth of Black students, and 4) reflect on measurable actions that foster social justice.
Racial Equity Standards

The learning outcomes align with the following Blackshear & Culp (2023) Racial Equity Standards in Physical Education that can be used to meet some of the SHAPE Initial Physical Education Teacher Education Standards.
Standard 1: Describe the effects of enslavement, Jim Crow, and systemic racism.
Standard 2: Discuss Black Femininity and Black Masculinity
Standard 3: Demonstrate Care, Respect, and Advocacy
Standard 4: Demonstrate High Expectations
Standard 5: Demonstrate culturally consistent communicative competencies.
Standard 6: Content Knowledge and Application
Standard 7: Implement Skill- and Fitness-building strategies.
Standard 8: Implement Holistic Instructional Strategies
---
Course brought to you by Human Kinetics and SHAPE America.

About SHAPE America
SHAPE America – Society of Health and Physical Educators serves as the voice for 200,000+ health and physical education professionals across the United States. The organization's extensive community includes a diverse membership of health and physical educators, as well as advocates, supporters, and 50+ state affiliate organizations.

Since its founding in 1885, the organization has defined excellence in school-based health education and physical education. For decades, SHAPE America's National Standards for K-12 Physical Education have served as the foundation for well-designed physical education programs across the country. The organization also collaboratively developed and owns the National Health Education Standards which provide the framework for effective skills-based health education instruction for all K-12 students.

Your Instructor
Tara B. Blackshear is an equity scholar who specializes in health, physical activity, and education. She is an Associate Professor of Kinesiology in Physical Education Teacher Education at Towson University. She earned her bachelor's and master's degrees in physical education at Florida A & M University and a Doctor of Education in exercise and sport science at the University of North Carolina at Greensboro. Before her current role, Dr. Blackshear taught 17-years in public, private, charter, and international schools in the United States, Egypt, and Thailand, and a 3-year post at the University of North Carolina at Chapel Hill working to prevent type-II diabetes among middle school youth in the most extensive school-based physical activity intervention in the United States.
Dr. Blackshear examines the social determinants of health and physical activity, fitness measures and outcomes, and inequities in education with a particular focus on race, women of color, and youth. Her interdisciplinary approach allows her to challenge the status quo, bring awareness, and provide solutions that aid in programming that confronts structures that negatively impact the wellbeing of groups that have been marginalized and minoritized. Dr. Blackshear's research has garnered national and international attention. It has begun to impact institutional change, policy, and practice, as evident in her participation in global media and consultation requests with organizations and agencies that seek to create culturally responsive, equitable environments. Dr. Blackshear's candid perspective has shown effectiveness in transforming performative institutional gestures into measurable outcomes with accountability. Critical Race Studies in Physical Education further Dr. Blackshear's unwavering commitment to confront and disrupt structures that do not serve Black youth in health, physical activity, and education. She is ready to embark on the collaborative effort with co-editor Dr. Brian Culp, to bring social justice to all.
Brian Culp is a professor and Department Chair in the WellStar College of Health and Human Services at Kennesaw State University. He completed his undergraduate studies at the University of Georgia in health and physical education, a masters in sport administration from Georgia State University, and a doctorate in curriculum and instruction at the University of Georgia. Prior to his current position, Dr. Culp taught at Armstrong Atlantic State University and Indiana University Purdue University Indianapolis. At each of these universities, Culp has assisted in the preparation of future professionals for sustained community engagement in the United States, Canada, Africa, and the Caribbean.
A lifelong learner, Dr. Culp's research has incorporated topics under the umbrella of promoting equity. These areas have included multiculturalism, service learning, successful aging, urban teacher education, bio-politics, coaching, social justice, archetypal pedagogy and semiotics. Culp was inducted as the 34th fellow of the National Association of Kinesiology in Higher Education in 2019, at the time, the youngest person to be awarded that distinction. Internationally, Dr. Culp has been a Fulbright-Hays program participant to Kenya, a Fulbright Scholar and Visiting Research Chair in Montreal, Canada and currently serves as a Fulbright Specialist for the organization.

Course Curriculum
Syllabus and Course Information
Available in days
days after you enroll
Certificate of Completion
Available in days
days after you enroll