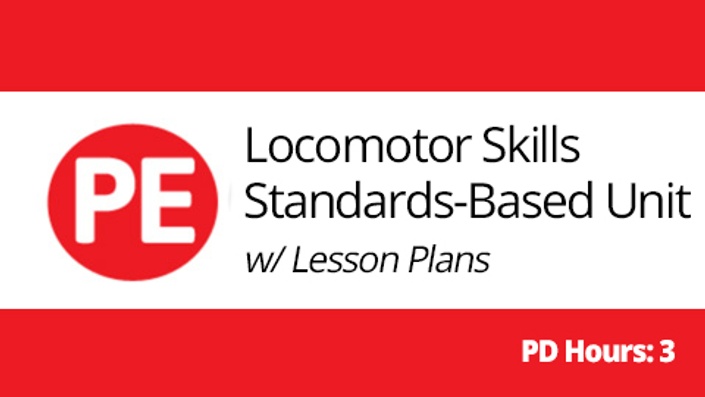 Locomotor Skills Standards-Based Unit with Lesson Plans
Aligning a Standards-Based Unit of Study: Content Standards, Assessment, Goals, Objectives and Instructional Strategies
Welcome!

We are excited about your interest in taking this Locomotor Skills Standards-Based Unit course from PE Central. Below you will find a brief course description, the instructor's biography, and course FAQ's. We estimate that this course will take 3 hours to complete. Once you have completed it, you may request the 3 hours towards your teacher licensure recertification.
We know you will find this course valuable and enjoyable. If you have any questions please email us at [email protected]
Best of Luck!
Mark Manross, Executive Director, PE Central


Course Goals:
1.To align key sections of a physical education unit of study, with lesson plans.

2.To collaborate with "experts" in the physical education profession; those teaching in the physical education classroom.
The national push for inclusion of common core standards and assessment has created a need for teachers across curriculums to align units of study. Key sections of alignment include content standards, goals, objectives, instructional strategies, and assessments. This e-course will provide opportunities for participants to focus on alignment of these sections by generating ideas through collaboration.
Because elementary physical educators have access to the majority of our youth and have first-hand experience teaching physical education content, they are the perfect target audience for this e-course. Participants can test ideas with actual students; retaining those approved by students and discarding those unsuccessful. In addition, participants have insight into credible resources for further researching of ideas. The end result is knowledge merging from sharing of multitude of "expert" perspectives that can be included in the Locomotor Skills Unit with Lesson Plans.
Course Description:
Common core standards emphasize the importance of critical thinking; and, collaborative learning promotes critical thinking. Therefore, a discussion style learning environment was selected for this e-course (an online collaborative format).
Participants will be provided with a Locomotor Skills Unit with Lesson Plans using the following template to ensure the dual course goals written for this course are met (alignment and collaboration):
Unit
• Content Standards:
• Learning Goals:
• Resources:

Lesson plans
• Learning Objectives:
• Cues:
• Equipment:
• Organization:
• Instructional Strategies (script form):
• Differentiated Instruction

Assessments:
Learning Goals, Learning Objectives, Cues, Equipment, Organization, and Differentiated Instruction have been completed for the unit of study. Participants will be asked to revise Content Standards, Instructional Strategies, and Assessments for the unit of study. The end results will be a ready-to-use. teacher-created and student-approved Locomotor Skills Unit with Lesson Plans
Course Objectives:

On the completion of this course, participants will be able to:
• Recognize content standards that define what a student should know and be able to do as a result of learned content (the National Physical Education Standards are the resource for standard-based education).
• Create instructional strategies that are used to reinforce skills taught and meet the objectives written for the Locomotor Unit with Lesson Plans.
• Find or develop a sample assessment that demonstrates what students do know and can do as a result of learned content.
• Promote critical thinking skills through collaboration with peers.
• Cite credible resources used for the physical education unit of study.
Need to get your Professional Development Credits approved by administration? Download the course description to provide them here.

Your Instructor
Renae holds a Master of Science in Education Degree from Wayne State College and a Bachelor's Degree in Health and Physical Education from Westmar University.
She has taught in a public school for 31 years and online for 16 years, specializing in Education, Physical Education, Health, and Psychology. Renae has authored and published a children's fitness program; and, is a Managing Editor for PE Central (an online resource for Health and Physical Educators).
Testimonials
Tristan I.
Elementary PE Teacher
"This course provides clear lesson plans that can be used in elementary P.E. classes for all grades. It was easy to understand and the instructor was prompt with responses. I plan to take future courses with PECentral."
"This was a great course and I would recommend it to other teachers. This is great for someone like myself who has no experience teaching but experience working with kids."
Check out Frequently Asked Questions Here!
(You will be prompted to enroll for free in the S&S Online School)