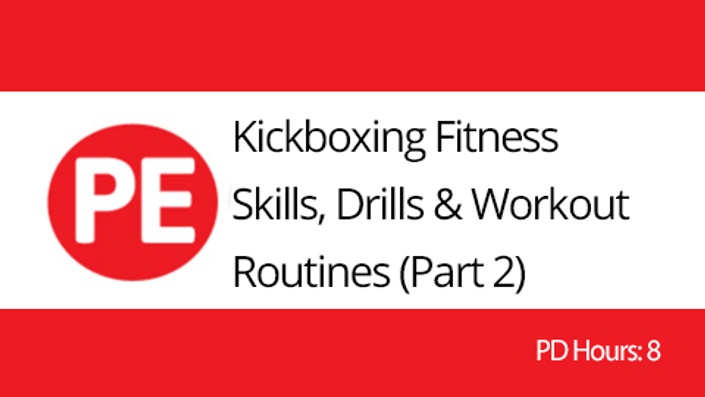 Kickboxing Fitness Skills, Drills & Workout Routines for Physical Education (Part 2)
Learn how to design safe, effective and FUN kickboxing fitness drills for PE
Welcome!
We are excited about your interest in taking this online course from PE Central. Below you will find a brief course description, the instructor's biography, and course FAQ's. We estimate that this course will take 8 hours to complete. Once you have completed it, you may request the 8 hours of Professional Development towards your teacher licensure re-certification. Use the one page description sheet below to share it with your administrators to make sure you can use this towards your Professional Development/Licensure plan. We hope you will find this course valuable and enjoyable. If you have any questions please email us at "[email protected]". Click here for one page description sheet.
Best of Luck!
Mark Manross, Executive Director, PE Central


---
Target Audience:
This course was designed primarily for secondary physical education teachers, specifically grades 6-12.
Course Purpose:
The purpose of this course is to provide the information and skills necessary for a physical education teacher to safely and effectively implement, modify and teach various kickboxing fitness skills, drills and workout routines in a physical education class. We want you to feel comfortable with Kickboxing as a fitness activity so you can safely and effectively offer it to your students.
Course Description:
By reading and studying the Kickboxing Fitness Skills, Drills & Workout Routines for Physical Education Manual (included with course) the PE professional will reach these objectives - Learn:
How to explain, demonstrate, and instruct the safe and proper execution of dozens of kickboxing fitness workout drills and routines.
About the safety concerns associated with each activity.
Technique execution modifications necessary to prevent injury in each activity.
About the concept of beginner, intermediate, and advanced levels of participation, as related to both skill and conditioning of individual participants.
How to safely and effectively perform numerous workout drills using kickboxing training equipment into PE classes.
How to execute equipment drills when there is no equipment available.
Applicable Standards:
Standard 1 - The physically literate individual demonstrates competency in a variety of motor skills and movement patterns.
Standard 2 - The physically literate individual applies knowledge of concepts, principles, strategies and tactics related to movement and performance.
Standard 3 - The physically literate individual demonstrates the knowledge and skills to achieve and maintain a health-enhancing level of physical activity and fitness.
Course Materials:
All materials are available to download in the form of PDF files from within the course module. The course materials include:
Kickboxing Fitness Skills, Drills & Workout Routines for Physical Education manual
Quizzes for sections 1, 2 and 4 of the Manual
Final Project Instructions
Course Design/Schedule
Since this course will take approximately 8 hours to complete, you may apply for 8 professional development hours/points from your school/school district. Make sure to check with your principal or professional development coordinator to clarify how professional development hours and credit work in your district.
You can contact your instructor via email for help, at any time. You will not earn a letter grade from this course, only feedback from your instructor.
Technology Needed to Complete the Course
You will need a computer or a tablet with an updated browser and Adobe Flash Player to complete the course. In addition, you will need a valid email address.
Course Assignments and Completion Instructions:
Complete first Introduction Message Board questions. Instructor will respond.
Read the course manual, pages 1 through 22 (Section 1)
Complete Section 1 Quiz
Read the course manual, pages 23 through 53 (Section 2)
Complete Section 2 Quiz
Read the course manual, pages 54 through 68 – you will need this information for your Final Project (Section 3)
Read the course manual, pages 69 through 104 (Section 4)
Complete Section 4 Quiz
Complete the Final Project – submit to the instructor via email.
Your instructor will review and respond with feedback within 7 days.
Complete Exit Questions on Message Board. Instructor will respond.
Instructor will notify PE Central that you have completed all course requirements so that your course completion certificate will be sent to you.
Click here for one-page description sheet
Your Instructor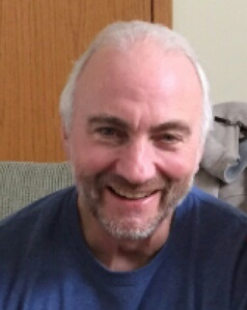 Tim Rochford (MS in Exercise Science, BS in Sport Management) has been in the fitness industry since 1984 and currently holds numerous certifications including ACE Medical Fitness Specialist, ACE and NASM CPT, The Cooper Institute MPFS, IYCA Level 1 and AAHF JrFit & Senior Fitness. He was formerly CPT certified through NSCA and AFAA. Tim has presented his Martial Fitness Kickboxing and Empower Self Defense Instructor Training programs for regional Shape America (formerly AAHPERD) events over the years. He has taught these programs at numerous Chicago suburban schools – directly leading workouts for students, as well as training PE professionals to become instructors in both kickboxing fitness and self defense programs.
Tim has been a continuing education provider in the fitness industry since 1997, presenting kickboxing fitness and self defense workshops nationally and internationally. Tim has been training in martial arts since 1978 and currently holds a 7th degree Black Belt in Kajukenbo/Kajukenpo Karate. He competed as an amateur kickboxer in the 1980's & 90's. He is the founder of Empower Training Systems (a self defense & kickboxing fitness instructor training company), has authored numerous instructor training programs and manuals. Tim is the co‐author of the ACE Kickboxing Fitness Specialty Training manual. He authored the only self defense instructor training course (workshop and home study) that is currently accredited for CEC/CEU in the fitness industry. He also has designed and patented the P2 Force, a unique body weight and elastic resistance training machine.