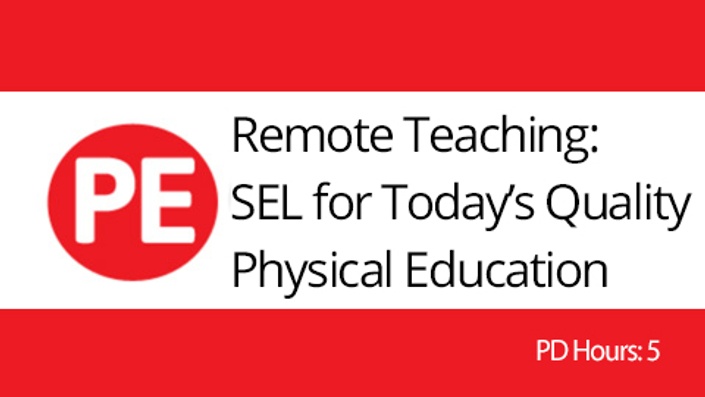 Remote Teaching: SEL for Today's Quality PE
Incorporating Social and Emotional Learning While Teaching PE Remotely (5 PD Hours)
Watch Promo
Testimonials:
This course is clear, concise, highly relevant, and laid out in a professional manner. Through the course, I was able to access additional resources attached to various modules. The course also put the social-emotional content of our lessons in the forefront, a pertinent piece to our ongoing virtual community of learners. I enrolled in this course for professional development hours required by my contract this year. What I did not expect was how fast my posts and assignments were reviewed, commented on, and graded. You will not be disappointed in this course! - Jason C.

This course will take approximately 5 hours to complete. If you have any questions about the course, please email us at "[email protected]".

Need to get your Professional Development Credits approved by administration? Download the course description to provide them here.

Target Audience:
This course is designed for K-12 physical education teachers who 1) are teaching remotely, 2) want to effectively integrate SEL into PE lessons delivered online, and 3) want to build students' social and emotional skills and awareness through online PE.
Course Purpose/Objectives:
The course is for physical educators who have transitioned to teaching online classes. Course modules provide foundational SEL information and demonstrates how to integrate SEL into practical, powerful online PE lessons. Students explore four online lesson styles.
Understand foundational social & emotional skills and how to easily integrate them into online PE lessons.
Increase abilities to prepare and deliver online student-centered physical education lessons with a focus on social and emotional skills.
Learning Outcomes
After completing this course, users will be able to:
Understand the 5 SEL competencies and how to apply them in online PE lessons.

Learn four PE lesson styles that can be adapted for any remote teaching situation.

Design an online PE lesson and demonstrate how SEL will be a focus.
Course Description:
Now more than ever, teachers must find ways to adapt lessons to help students meet new challenges, and many are trying to do it remotely. Making the transition to teaching online is a also a huge challenge. This course takes teachers who have pivoted to online teaching through engaging content that demonstrates practical, easy ways to include social and emotional skills in online lessons. Module content presents ways to connect to students online through engaging lessons and impact not only their physical well-being but their social and emotional health as well.

Course Time to Complete: 5 hours
Standards:
This course addresses the following standards:
Source: SHAPE America National Standards https://www.shapeamerica.org/standards/
Physical Education – The physically literate individual:
Standard 1: Demonstrates competency in a variety of motor skills and movement patterns.
Standard 2: Applies knowledge of concepts, principles, strategies and tactics related to movement and performance.
Standard 4: Exhibits responsible personal and social behavior that respects self and others.
Standard 5: Recognizes the value of physical activity for health, enjoyment, challenge, self-expression and/or social interaction.
Health – Students will demonstrate the ability to:
Standard 4: Use interpersonal communication skills to enhance health and avoid or reduce health risks.
Standard 5: Use decision-making skills to enhance health.
Standard 6: Use goal-setting skills to enhance health.
Standard 7: Practice health-enhancing behaviors and avoid or reduce health risks.
Standard 8: Advocate for personal, family, and community health.
Downloadable Materials
Downloadable templates will be available within course modules.
Viewing Animated Videos:
Animated videos within the course provide illustrations, commentary, and clarifications from the instructor. These videos range in duration from 30 seconds - 3 minutes.
Viewing External Content:
At times throughout the course students will be instructed to visit external sites to view videos and/or articles. External content will open in a new, separate window which will require students to close when completed in order to return to the course.
Need to get your Professional Development Credits approved by administration? Download the course description to provide them here.

Your Instructor
Benna Cail is an award-winning curriculum writer, professional development facilitator, and education industry strategist. Benna aims to bring out the ROCK-STAR in every educator! She helps educators develop and organize plans, teaching methods, and learning outcomes in ways that bring out the best in their students. Her unique approach includes equipping teachers with the skills needed to overcome everyday challenges while maintaining dynamic, student-centered teaching and learning practices. In addition, Benna consults with for-profit and not-for-profit companies that produce products, programs, and services for schools.
Benna's experience in education spans over 25 years. Starting out as an elementary physical educator, she taught in at-risk schools as well as in public and private education. Benna also served on committees tasked with developing physical education curriculum and training. Through these efforts she was twice awarded by the Disney company for her innovative physical education programs. She then took an opportunity to build and establish a community-wide youth sports program which led to being sought after by The First Tee, a youth development organization that introduces the game of golf and its values to kids.
Due to her extensive background in physical education, Benna served as director of curriculum and training development for The First Tee. She was responsible for pioneering the creation, pilot, and nation-wide implementation of The First Tee's elementary physical education program: The First Tee National School Program. This first-of-its-kind P.E. program amassed a reach that enabled The First Tee to impact of over 10,000,000 kids. When she left The First Tee, her program had impacted over 15,000 physical educators in 10,000 elementary schools across the United States. Benna attributes her work with thousands of physical educators from across the country as an invaluable experience and one that informs and benefits her work to this day.
Benna is solution-focused and draws from her years of experience and expertise to enhance the work of educators dedicated to making a positive difference in the lives of their students.
Course Curriculum
Getting Started
Available in days
days after you enroll
Module 1
Available in days
days after you enroll
Module 2
Available in days
days after you enroll