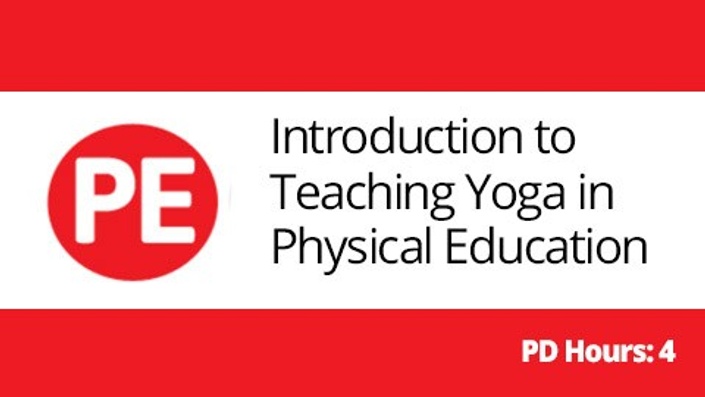 Introduction to Teaching Yoga in PE
Learn the Fundamentals of Yoga and Creating Yoga Bursts
Welcome!
We are excited about your interest in taking this Introduction to Teaching Yoga in PE Course from PE Central. Below you will find a brief course description, the instructor's biography, and course FAQ's. We estimate that this course will take 4 hours to complete. Once you have completed it, you may request the 4 hours towards your teacher licensure recertification. In addition, this course comes with a student approved, ready to go Yoga Unit for you to implement.
We know you will find this course valuable and enjoyable. If you have any questions please email us at [email protected]
Best of Luck!
Mark Manross, Executive Director, PE Central


Target Audience:

We have designed this online course for physical education teachers working with grades pre-K through 5th grade.
Course Purpose:
The purpose of this course is to introduce the concept of yoga as a form of stand-alone physical activity that can be used in the Physical Education setting, and demonstrate how yoga aligns with SHAPE America's National PE Standards for evaluating student fitness. Upon completion of the course, Physical Education teachers should feel prepared to lead a week-long yoga unit.


Course Description:
Studies have shown that children who practice yoga regularly experience improved strength, flexibility, and balance. This course will go over the proper alignment and sequencing to teach an effective yoga unit to students, and provide the appropriate background information to structure the unit over the course of a week of physical education classes. Special attention is paid to alignment in order to prevent injuries. Yoga is especially inclusive and accommodations can be made for all levels of physical ability. Given yoga's increasing prevalence and availability in communities across the country, students will receive an introduction to a kind of exercise they can practice throughout their lives.
Course Goals:
On completion of this course students will be able to:
Articulate the benefits of yoga for pre-K through 5th grade aged students.
Familiarize physical education teachers with the basics of yoga-based movements: the names of basic poses and their musculoskeletal benefits and contraindications; proper sequencing of yoga poses for varying levels of aerobic and strength-building exercise; and adaptive techniques to adjust poses for students with physical limitations or disabilities.
Provide adequate tools and resources for physical education teachers to adapt yoga for the specific needs of their classes, making a yoga unit accessible for both teachers and their students.
Standards:
This course addresses the following standards:
Standard 2:The physically literate individual applies knowledge of concepts, principles, strategies and tactics related to movement and performance.
Standard 5:The physically literate individual recognizes the value of physical activity for health, enjoyment, challenge, self-expression and/or social interaction.
National Standards for K-12 Physical Education Copyright 2013, SHAPE America – Society of Health and Physical Educators, 1900 Association Drive, Reston, VA 20191, www.shapeamerica.org. All rights reserved.
Learning Materials:
Most of the materials in this course comprise original Yoga Foster content, including videos demonstrating poses; visual and textual descriptions/explanations of poses; Yoga Bursts; and readings compiled from first- and secondary-source materials. Additional reading materials will also be a part of the course. All materials will be housed in the online course module and available for download.
Technology needed to complete:
You will need a computer (tablet does not work at this time) with an updated browser and Adobe Flash Player to complete the course. In addition, you will need a working and valid email address.

Need to get your Professional Development Credits approved by administration? Download the course description to provide them here.

Your Instructor

Yoga Foster (email: [email protected]) Yoga Foster began as a way to empower teachers with tools to bring yoga and mindfulness into their classrooms. Now in their 3rd year, they've grown to support hundreds of classrooms across the country. This course draws on some of the essential aspects of our signature Yoga Foster Fundamentals training to give you all the resources you need to integrate yoga into PE
Testimonials
"Great beginning class to help teachers bring Yoga into PE! I really liked the descriptions and examples of Yoga Burst. This is something I want my children to create and share. I also really appreciated the video on the first day of Yoga class. I was able to see the pacing of the lesson and the flow of the Walk in the Park. I am looking forward to getting started!"
"What a great course! I found the first part on skeletal and muscular development very informative, worthwhile and interesting. I have wanted to introduce yoga in my K-5 classes, but wasn't knowledgeable. Without this course I never would or should introduce it into my curriculum. I especially want to use this as an every class period cool down activity. Thank you!"
" I wanted to know the physical determing factors to take into account, the different poses I could use for my yoga classes in an Elementary School and how to create an appropiate program. This course helped with all that. Thanks!"
Check out Frequently Asked Questions Here!
(You will be prompted to enroll for free in the S&S Online School)