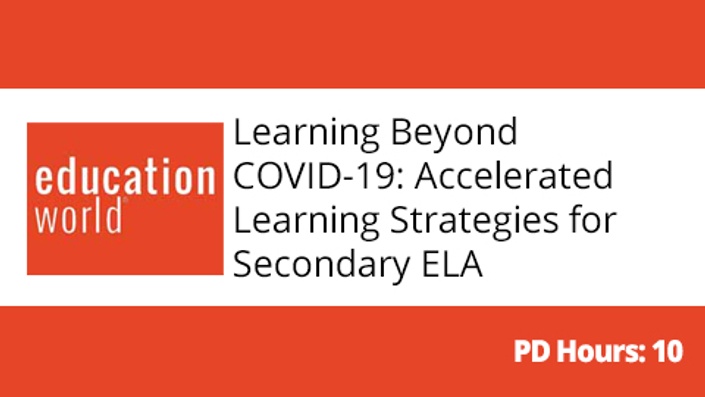 Learning Beyond COVID-19: Accelerated Learning Strategies for Secondary ELA
Strategies to Help Students Catch Up and Thrive
This course will take approximately 10 hours to complete. If you have any questions about the course, please email us at "[email protected]".
Need to get your Professional Development Credits approved by administration? Download the course description to provide them here.
Welcome!
Thank you for enrolling in this course. I am so excited to have you here! It might be hard to believe, but we are embarking upon on a third year of pandemic learning interruption. The goal of this course is to help empower both ourselves and our students as we determine how learning interruption has influenced their acquisition of skills and standards. This course is geared specifically toward navigating ELA and literacy recovery in grades 6-12 through strategic learning acceleration and prioritization. I hope you find what I offer in the course worthwhile and meaningful. If you ever have any questions, please email me at
[email protected]
.
Generally, turnaround time on assignments is quick. If I do not respond to any of your discussion board posts, assignments or any other communications within 48 hours, please contact me via email to check in.
Target Audience:
This course is recommended for secondary English teachers at all levels of experience.
Course Purpose/Objectives:
The course explores and demonstrates practical ways to target learning acceleration strategies in secondary ELA and literacy. Objectives include:
● Exploring the definition of learning acceleration and the rationale behind the process
● Prioritizing techniques for building a trusting classroom community that encourages academic risk-taking
● Targeting needed skills and standards to prioritize how to best help students with the most salient areas of need
● Planning an approach to curriculum study, both from an individual and collaborative perspective
● Implementing instruction that authentically targets needed areas of growth
● Developing formative assessment measures to provide data-driven, measurable outcomes
● Using student voice tools to gather feedback on their learning progress
● Experimenting with strategies and tools that scaffold learning acceleration
● Examining a variety of resources to continue the professional learning experience
● Reflecting upon where to take the ideas shared in this course and translate them to classroom practice
Learning Outcomes
1. Define learning acceleration and apply that definition to secondary English Language Arts (ELA) and literacy instruction
2. Explore the connection between relationships and academic achievement
3. Examine the Core Content State Standards (CCSS) for ELA and literacy to become more familiar with what students need to know and be able to do
4. Analyze curriculum design strategies for both individual and collaborative planning
5. Apply learning acceleration to instructional practice
6. Create a formative assessment to determine student performance that provides a measurable result
7. Develop a student voice feedback tool to determine next steps
8. Analyze strategies for scaffolding learning acceleration with the goal of selecting one to implement in practice
9. Explore additional resources to further increase understanding of learning acceleration
10. Reflect upon the learning experience in this course and develop next steps for actionable classroom results
Course Description:
After roughly 18 months of interrupted learning during the pandemic, teachers are returning to school buildings with a pervasive sense of pressure to help students catch up on disrupted instruction. How can this process be intentional, streamlined and effective in secondary English classrooms? The answer comes via a process known as "learning acceleration." By exploring depth rather than pace, this course gives teachers actionable strategies for helping students access targeted grade-level content rather than engage in a vicious cycle of unfocused remediation.
Course Completion Time: 10 hours
Course Assignments:
Assignments are self-paced. Please access each module in the order presented. Participants will need to view online presentations, documents and resources in order to respond to the concepts and materials presented in this course. Throughout the course, students will use various online tools for their responses, so a quiet workspace with a strong internet connection is advised.
Technology Needed for the Course:
A computer or tablet with video and sound capability will be needed to access the course material. In addition, you will need a working and current email address that you check frequently.
Viewing External Content:
At times throughout the course, students will be instructed to visit external sites to view content. Each time external content will open in a new, separate window which will require participants to close when completed and return to the course.
Need to get your Professional Development Credits approved by administration? Download the course description.
Your Instructor
Miriam Plotinsky is an instructional specialist with Montgomery County Public Schools in Maryland, where she has taught and led for over 20 years. She is a National Board Certified Teacher, a certified administrator, and an education writer for multiple publications. She lives in Silver Spring, Maryland.
Course Curriculum
Syllabus & Course Information
Available in days
days after you enroll
Module 1: Introduction and Course Overview
Available in days
days after you enroll
Module 2: Building Relationships
Available in days
days after you enroll