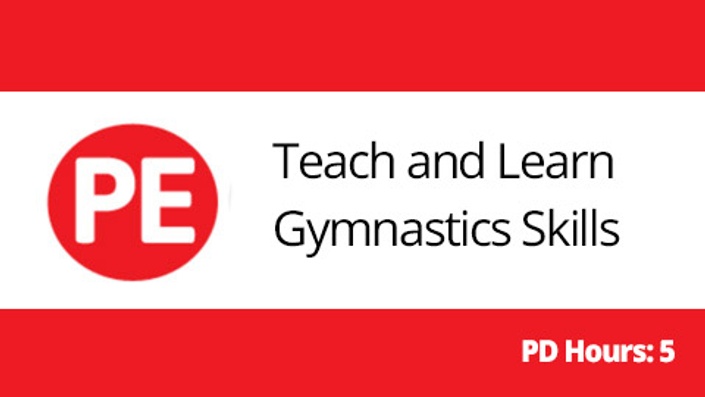 Teach and Learn Basic Gymnastics Skills
Everything You Need About Teaching Select Floor Gymnastics Skills
Watch Promo
This course will take approximately 5 hours to complete. If you have any questions about the course, please email us at "[email protected]".

Need to get your Professional Development Credits approved by administration? Download the course description to provide them here.

Target Audience:
This e-course was designed for elementary physical educators looking to improve their gymnastics knowledge and teaching ability. The only skills covered in this course are the fundamentals of gymnastics and are of the correct levels to be taught in education. The course focuses on floor skills.
Course Purpose:
The purpose of this course is to give detailed lessons on how to learn and teach fundamental gymnastics skills—with an emphasis on floor skills. The skills are broken down to make the learning of the skills achievable for all levels of abilities.
Course Description:
This course breaks chosen floor style gymnastics skills into bitesize pieces and then builds up onto the whole action. By the end you will be able to competently teach the skills presented here and then be shown ways to extend the skills for more higher skilled pupils. The more challenging skills are shown in slow motion and each of the assignments have hints and tips containing the teaching points. The course will cover 6 gymnastics skills/concepts. They are Posture and Shapes, Jumps, Skills, Rolls, Leaps and Routines. The student will be able to review notes for each presentation, and take a short quiz on each section.
Course Goals:
On completion of this course learners will be able to:
Properly teach the fundamental shapes and posture required for gymnastics.
Properly teach gymnastics jump with correct landing.
Have detailed knowledge and be able to teach gymnastics floor skills.
Teach numerous rolls.
Teach leaping
Teach linking gymnastics movements into a sequence.
Reading Materials:
Teaching points will be displayed on the videos, there is very limited reading within this course.
Technology needed to complete:
You will need a computer and/or tablet and a valid email address to contact the instructor or turn in materials.
Course Design/Schedule:
We have estimated this module will take approximately 5 clock hours to complete. Of course this will vary with every learner. Since the course will take approximately 5 hours you could apply for 5 professional development hours/points from your school/school district. Make sure to check with your principal or professional development coordinator to see how this works in your district.
Students can start and complete assignments any time they wish. You will have an instructor that you can contact via email for help, and you will turn in some of your assignments via email to your mentor. Your instructor will communicate with you via email. The instructor will also review most of your work to make sure you are making the appropriate progress. You will not earn a letter grade from this course.
Standards:
Source: SHAPE America National Standards for K-12 Physical Education (2016).
Standard 1 - The physically literate individual demonstrates competency in a variety of motor skills and movement patterns.
Standard 2 - The physically literate individual applies knowledge of concepts, principles, strategies and tactics related to movement and performance.
Standard 3 - The physically literate individual demonstrates the knowledge and skills to achieve and maintain a health-enhancing level of physical activity and fitness.
Standard 5 - The physically literate individual recognizes the value of physical activity for health, enjoyment, challenge, self-expression and/or social interaction.
Need to get your Professional Development Credits approved by administration? Download the course description to provide them here.

Your Instructor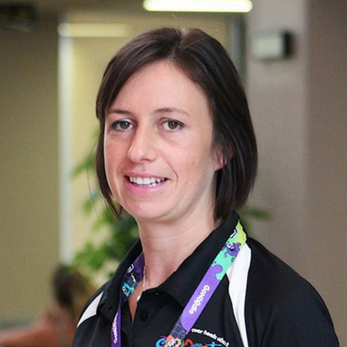 Gemma lives in Bournemouth United Kingdom where she runs a successful recreational Gymnastics Club called Head Over Heels Gymnastics which was founded in 2000. As a child, Gemma spent most of my time upside down, mad about 'Gymnastics' and this enthusiasm never left! Gemma is extremely passionate about grassroots gymnastics and loves to teach not only the stars of the future but those less with less confidence in gymnastics skills.
Course Curriculum
Syllabus and Course Information
Available in days
days after you enroll
Teaching Gymnastics in PE
Available in days
days after you enroll
Gymnastics Skill 1: Shapes & Posture
Available in days
days after you enroll
TESTIMONIALS
"I took a gymnastics class in college and learned a lot there but never could figure out how to apply it to elementary students. Now that I have watched the videos and taken the course I feel like I can always revert back to the videos to get a more clear way on how to structure the course " - John D.
"After taking this course I feel more confident to teach the skills. I learned all of these when I was in school but that has been a while and this course served as a GREAT refresher course. Thank you very much for sharing!!!! "