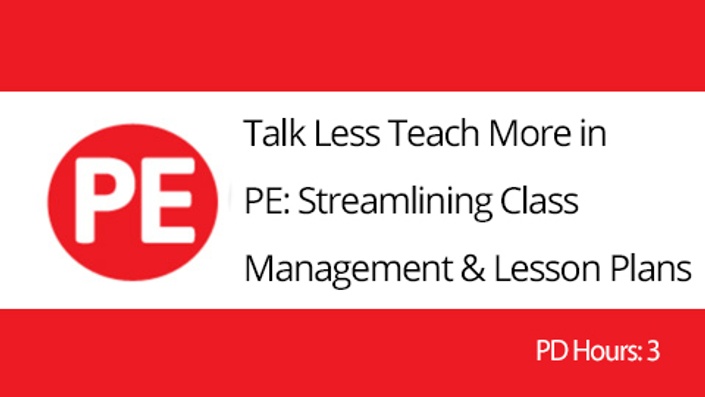 Talk Less, Teach More in PE: Streamline Class Management and Lesson Plans
Brain Sticky strategies to streamline class management and lesson plans for busy PE teachers.
Watch Promo
This course will take approximately 3 hours to complete and is fully self paced. If you have any questions about the course, please email us at "[email protected]".

Need to get your Professional Development Credits approved by administration? Download the course description to provide them here.

Target Audience
This course has been designed for busy K-12 physical education teachers who want to:
Simplify class management and lesson planning while maintaining high-quality and effectiveness
Talk less while teaching more!
Course Time to Complete
3 hours, fully self-paced.
Technology Needed to Complete this Course
Computer or a Tablet
Updated Browser
Adobe Flash Player
Valid Email Address
Course Purpose/Description: Streamline class management and lesson planning – talk less and teach more! Through this course learn a new teaching methodology – Brain-Sticky MethodologyTM: 5 filters that save you time and energy explaining, reteaching, and correcting. Improve students' abilities to learn and remember new rules, information, and skills essential to their well-being and progress.
Streamline class management protocols and lesson plans
Gain teaching time for guiding students' learning of core knowledge and skills
Improve students' understanding/retention/application of knowledge and skills
Increase students' abilities and motivations to be safe, responsible, and engaged
Standards
This course addresses the following standards:
Source: SHAPE America National Standards
Physical Education
Standard 1: Demonstrates competency in a variety of motor skills and movement patterns.
Standard 2: Applies knowledge of concepts, principles, strategies and tactics related to movement and performance.
Standard 4: Exhibits responsible personal and social behavior that respects self and others.
Standard 5: Recognizes the value of physical activity for health, enjoyment, challenge, self-expression, and/or social interaction.
Health
Standard 5: Use decision-making skills to enhance health.
Standard 6: Use goal-setting skills to enhance health.
Standard 8: Advocate for personal, family, and community health.
Downloadable Materials
Downloadable templates will be available within course modules.
Viewing Animated Videos
Animated videos within the course provide brain-sticky illustrations, commentary, and clarifications from the instructor. Videos are 30 seconds to 3 minutes long on average.
Viewing External Content
At times throughout the course, students will be instructed to visit external sites to view videos and/or articles. Each time external content will open in a new, separate window which will require students to close when completed and return to the course.
Need to get your Professional Development Credits approved by administration? Download the course description to provide them here.

Your Instructor
Benna Cail is an award-winning curriculum writer, professional development facilitator, and education industry strategist. Benna aims to bring out the ROCK-STAR in every educator! She helps educators develop and organize plans, teaching methods, and learning outcomes in ways that bring out the best in their students. Her unique approach includes equipping teachers with the skills needed to overcome everyday challenges while maintaining dynamic, student-centered teaching and learning practices. In addition, Benna consults with for-profit and not-for-profit companies that produce products, programs, and services for schools.
Benna's experience in education spans over 25 years. Starting out as an elementary physical educator, she taught in at-risk schools as well as in public and private education. Benna also served on committees tasked with developing physical education curriculum and training. Through these efforts she was twice awarded by the Disney company for her innovative physical education programs. She then took an opportunity to build and establish a community-wide youth sports program which led to being sought after by The First Tee, a youth development organization that introduces the game of golf and its values to kids.
Due to her extensive background in physical education, Benna served as director of curriculum and training development for The First Tee. She was responsible for pioneering the creation, pilot, and nation-wide implementation of The First Tee's elementary physical education program: The First Tee National School Program. This first-of-its-kind P.E. program amassed a reach that enabled The First Tee to impact of over 10,000,000 kids. When she left The First Tee, her program had impacted over 15,000 physical educators in 10,000 elementary schools across the United States. Benna attributes her work with thousands of physical educators from across the country as an invaluable experience and one that informs and benefits her work to this day.
Benna is solution-focused and draws from her years of experience and expertise to enhance the work of educators dedicated to making a positive difference in the lives of their students.
Course Curriculum
Course Information and Syllabus
Available in days
days after you enroll
Module 1
Available in days
days after you enroll
Module 2
Available in days
days after you enroll