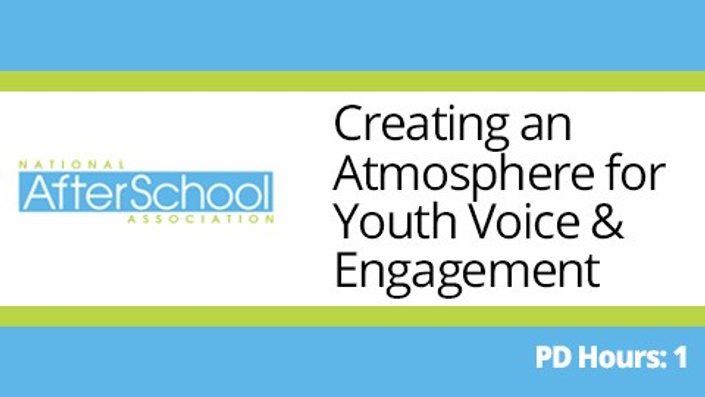 Webinar: Creating an Atmosphere for Youth Voice & Engagement
A National AfterSchool Association PD Opportunity
Course Purpose:
The purpose of this course is to provide educators and out-of-school time professionals activities and inspiration to create an environment where the children and students in their care can thrive. Before children even begin their day with us, we have no idea how their morning or home life has had an effect on their behavior or mental mindset. We have the ability to positively effect each one of these children and give them a space where they feel comfortable, confident and where they can ask questions and be heard.
Target Audience:
We have designed this online course for out-of-school time professionals in before and after school, summer camps, school age or recreation programs.
Course Description:
This webinar course from the National AfterSchool Association was created to inspire out-of-school professionals to activate their programs to be a place for youth voice and meaningful engagement. Daniel Hatcher will present easy to try ideas that will help get yourself and your staff in the mindset of the children in your program. You will not only walk away with three ideas to try, but also the encouragement to reconnect and reflect on the purpose of your program. The presenter in this webinar is Daniel Hatcher, the National Out-of-School Time Advisor for the Alliance for Healthier Generation.
This course will help educators, administrators and professionals that work with children address Social Emotional Learning, a huge part of helping our children to be confident so that they can succeed in life.
*Certificates of Attendance for this professional development are available. In order to receive your certificate, email [email protected] that you have finished the webinar course.
Your Instructor

The National Afterschool Association - the voice of the afterschool profession – has over 22,000 members across the country and hosts the most comprehensive program of professional development opportunities for afterschool professionals anywhere in the United States. NAA meets the needs of both emerging and experienced afterschool professionals through enhanced training and development, increased communication, outreach and membership engagement.
Check out Frequently Asked Questions Here!
(You will be prompted to enroll for free in the S&S Online School)