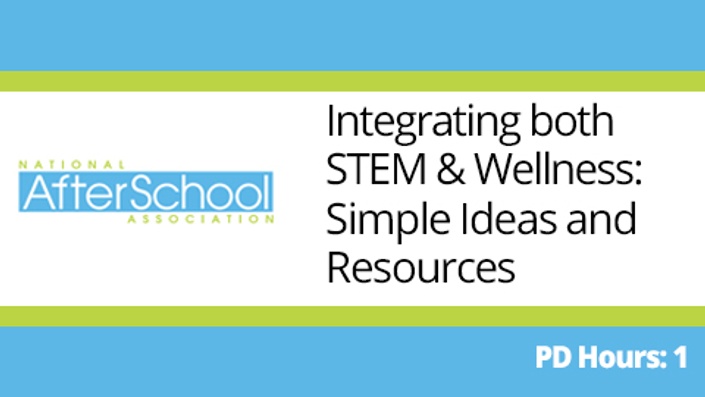 WEBINAR: Integrating both STEM & Wellness with Simple Ideas and Resources
A National AfterSchool Association Professional Development Opportunity
Course Purpose & Description
The purpose of this course is to provide educators and out-of-school time professionals information, resources and simple ideas to integrate both STEM and Wellness into their programs.
Many educators and directors in the out-of-school area are tasked with integrating many topics into their programs and curriculum. STEM and Wellness are two large ones due to their importance in developing interest and engagement in those areas. Are you challenged by these two competing priorities in your program? Are you surviving on a lean budget and searching for tools to share with your team on how to engage and inspire the youth you serve in these areas? The Alliance for a Healthier Generation and the National Girls Collaborative Project have joined forces to bring you a fun interactive workshop that will explore innovative ideas for blending STEM and wellness. All designed to help all young people succeed. Participants will leave with easy-to-implement ideas and evidence-based resources along with talking points for building support with school administrators. The workshop will feature a new resource, "STEM and Wellness: A Powerful Equation for Equity," developed in partnership with the National AfterSchool Association and the Afterschool Alliance.
As out-of-school time professionals, you have the opportunity to provide activities that combine both STEM and Wellness.

Target Audience:

We have designed this online course for out-of-school time professionals in before and after school, summer camps, school age or recreation programs.
Presenters:
The presenters in this webinar is Daniel Hatcher, the National Out-of-School Time Advisor for the Alliance for Healthier Generation and Erin Hogeboom, Community Development and Network Strategy Manager for the National Girls Collaborative Organization
*Certificates of Attendance for this professional development will be distributed on the 1st and 15th of each month or the closest business days following those dates. In order to receive your certificate, email [email protected] that you have finished the webinar course.

What an informative presentation, thank you for sharing all the great ideas and data. I know with Boys & Girls Club, we like to challenge our students to make sure they succeed and become the best citizens possible using healthy habits and academic success. I really enjoyed the videos shared, the BBC video about gender stereotypes was eye opening and the SciGirls through PBS looks like it would really spark interest with the middle schoolers I personally work with. Using STEM or STEAM, in our program has allowed our members the ability to use scientific reasoning and thinking, combining science with wellness I believe our students will take part without complaint.
- N. D.
Your Instructor

The National Afterschool Association - the voice of the afterschool profession – has over 22,000 members across the country and hosts the most comprehensive program of professional development opportunities for afterschool professionals anywhere in the United States. NAA meets the needs of both emerging and experienced afterschool professionals through enhanced training and development, increased communication, outreach and membership engagement.