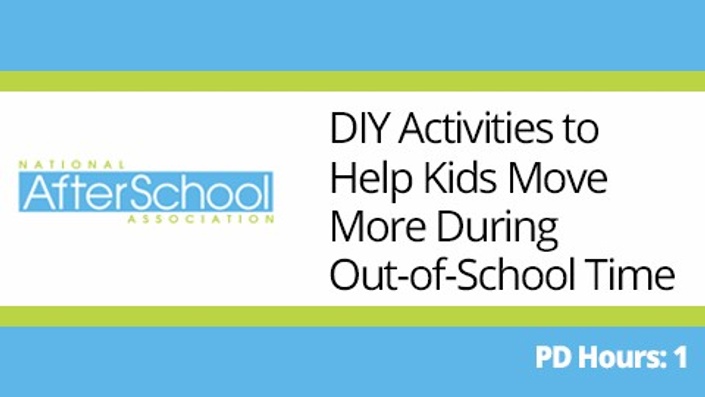 WEBINAR: DIY Activities to Help Kids Move More
A National AfterSchool Association PD Opportunity
Course Purpose:
The purpose of this course is to provide educators and out-of-school time professionals easy and DIY activities to get kids in their program more physically active and moving.
Why is this important?
According to the Alliance for Healthier Generation:
• Childhood obesity has more than tripled in the past 30 years.
• Today, 1 in 3 children and adolescents, ages 2-19, are overweight or obese - triple the rate from just one generation ago.
• Most adolescents fall short of the Physical Activity Guidelines for Americans recommendation of at least 60 minutes of aerobic physical activity each day.
• in 2009 only 33% of students had access to and attended daily physical education classes in school.
• The percentage of children aged 6–11 years in the United States who were obese increased from 7% in 1980 to nearly 20% in 2008.

As out-of-school time professionals, you have the opportunity to provide activities that require students to be physically active.
Target Audience:

We have designed this online course for out-of-school time professionals in before and after school, summer camps, school age or recreation programs.
Course Description:
This webinar course from the National AfterSchool Association was created for professionals looking for activities that are fun and engaging, easy to implement, and can be done with supplies on hand. Daniel Hatcher will present easy ideas to try and resources to use that you can walk away ready to use and or pass on to your staff to try. They are that easy! The goal is to get you thinking about how you can help get your students more active, healthy and engaged in taking care of themselves. The presenter in this webinar is Daniel Hatcher, the National Out-of-School Time Advisor for the Alliance for Healthier Generation.

*Certificates of Attendance for this professional development will be distributed on the 1st and 15th of each month or the closest business days following those dates. In order to receive your certificate, email [email protected] that you have finished the webinar course.

Testimonials
"After taking this course, I am really excited to get the children moving. This course gives me an idea on how to do it. Thank you."
"The biggest takeaway from the course was the level of creativity and enthusiasm added to the movement element. Exercise can get boring for students, but with these new ideas students will enjoy movement. The student will love the activity sticks, balloons, math flash cards, and making their own movement cards. I am just thrilled to have some new ideas. "


"From taking this course, I was able to get more suggestions on how to get the students moving. I liked how creativity was involved with making special cards. I will definitely use the downloaded cards for demonstrating the exercise. Thank you."
Your Instructor

The National Afterschool Association - the voice of the afterschool profession – has over 22,000 members across the country and hosts the most comprehensive program of professional development opportunities for afterschool professionals anywhere in the United States. NAA meets the needs of both emerging and experienced afterschool professionals through enhanced training and development, increased communication, outreach and membership engagement.
Check out Frequently Asked Questions Here!
(You will be prompted to enroll for free in the S&S Online School)