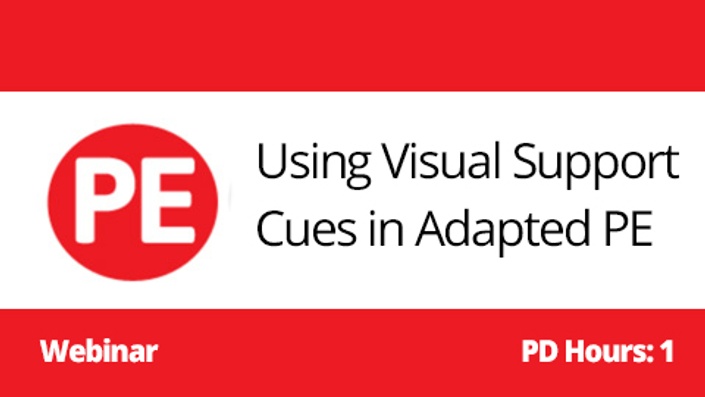 WEBINAR: Introduction to Using Visual Support Cues in PE for Children with Autism
Webinar Description: This webinar from PE Central will introduce participants to children with autism, typical characteristics seen in these children and how these characteristics effect their ability to be successful in physical education. Then participants will be introduced to visual supports as a means to help children with autism overcome some of these characteristics and have a more successful experience in physical education. In addition to the content, Dr. Block will answer questions addressed on the live webinar, as well as discuss his PE Central online courses available here and listed below.

Learning Objectives:

Introduce participants to autism.

Introduce participants to unique teaching methods specific to autism.

Showcase unique teaching methods that are effective in a physical education setting.
*Certificates of Attendance for this webinar will be distributed on the 1st and 15th of each month or the closest business days following those dates. In order to receive your certificate, email [email protected] that you have finished the webinar.

*Participants that purchase this webinar will receive a $10 credit towards the full 10 hour course on Using Visual Support Cues for Children with Autism.

Using Visual Support Cues with Children with Autism. Enrolling Now: 10 Hour Course ($99)
Teaching Children with Autism. Graduate Credit Course (offered next in Summer 2019) ($550)
Your Instructor
Martin Block is a Professor in Kinesiology in the Curry School of Education at the University of Virginia where he teaches courses in adapted physical education and motor development. He is the author of over 75 peer reviewed articles, 20 chapters in books, and 5 books on adapted physical education and motor development including A Teachers' Guide to Including Students with Disabilities in General Physical Education (3rd edition) and Developmental and Adapted Physical Activity Assessment.
Professor Block also has been a consultant with Special Olympics, Inc., since 1988, where he was the primary author of the Motor Activities Training Program (MATP), a sports program for athletes with severe intellectual disabilities. Professor Block is the Editor of the Journal Palaestra, he is President-elect of the International Federation of Adapted Physical Activity (IFAPA), and he is past-president of the National Consortium for Physical Education for Individuals with Disabilities (NCPEID). Finally, Professor Block is the Coordinator of the Adapted Physical Education Module for the European Masters Program in Adapted Physical Activity based at the Katholiek University in Belgium, and he is a consultant for the Adapted Physical Activity Research Center at Beijing Sport University in China.
Dr. Martin Block
Email: [email protected]