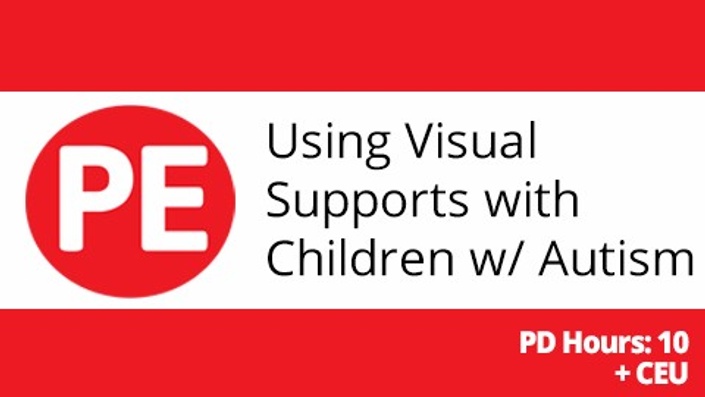 Adapted PE: Using Visual Supports with Children with Autism
Learn How to Build & Incorporate Visual Supports for Autistic Children
Welcome!
We are excited about your interest in taking this Adapted PE Online Course from PE Central. Below you will find a brief course description, the instructor's biography, and course FAQ's. We estimate that this course will take 10 hours to complete. Once you have completed it, you may request the 10 hours towards your teacher licensure recertification. In addition, this course is eligible for CEU credit.
We know you will find this course valuable and enjoyable. If you have any questions please email us at [email protected]
Best of Luck!
Mark Manross, Executive Director, PE Central
Course Purpose:
The purpose of this e-course is to introduce physical educators to (a) the definition and characteristics of autism, and (b) visual supports and how to create and use visual supports specifically for a physical education setting.
Course Description:
The online class will guide participants via power point notes, articles and videos on the importance of visual supports for children with autism, the various types of visual supports such as visual schedules and task organizers, and how to create visual supports and implement these supports with children with autism in physical education.
Course Goals:

On completion of this course students will be able to:
Describe major characteristics associated with autism
Describe the unique learning styles, strengths, and deficits of children with autism that makes visual supports such a compelling teaching tool
Create visual supports including the following:

Physical structure/boundaries
Schedules
Work systems/Task organizer
First/then board
Countdown strips
Reading Materials:
All reading materials are available to download in the form of PDF files from within the course module.
Fittipaldi-Wert, J & Mowling, C.M. (2009). Using visual supports for students with autism in physical education. Journal of Physical Education, Recreation & Dance, 80(2), 39-43.
Technology needed to complete:
You will need a computer (tablet will not work at this time) with an updated browser and Adobe Flash Player to complete the e-course. In addition, you will need a working and valid email address.
Access to Children with Autism
To successfully complete this course you will need to have access to children with autism as you will create and implement your own visual supports. You also could create and implement these visual supports with other children with disabilities such as children with intellectual disabilities or learning/attention problems.
Need to get your Professional Development Credits approved by administration? Download the course description to provide them here.

Your Instructor
Martin Block is a Professor in Kinesiology in the Curry School of Education at the University of Virginia where he teaches courses in adapted physical education and motor development. He is the author of over 75 peer reviewed articles, 20 chapters in books, and 5 books on adapted physical education and motor development including A Teachers' Guide to Including Students with Disabilities in General Physical Education (3rd edition) and Developmental and Adapted Physical Activity Assessment.
Professor Block also has been a consultant with Special Olympics, Inc., since 1988, where he was the primary author of the Motor Activities Training Program (MATP), a sports program for athletes with severe intellectual disabilities. Professor Block is the Editor of the Journal Palaestra, he is President-elect of the International Federation of Adapted Physical Activity (IFAPA), and he is past-president of the National Consortium for Physical Education for Individuals with Disabilities (NCPEID). Finally, Professor Block is the Coordinator of the Adapted Physical Education Module for the European Masters Program in Adapted Physical Activity based at the Katholiek University in Belgium, and he is a consultant for the Adapted Physical Activity Research Center at Beijing Sport University in China.
Dr. Martin Block
Email: [email protected]
Testimonials
"Very helpful class with information that I can really use in my PE class. Many of my autistic students come to my class with their daily schedules so I was familiar with the concept. However, I had never tried using my own visual supports that would be just for PE activities. I enjoyed learning about the different types of visual supports and am excited about trying them with some of my students. Very helpful instructor also!"
CEU Credit Available for this Course!
This course is available for CEU credits. If you are interested in receiving these credits through the college, click here for more information.
Check out Frequently Asked Questions Here!
(You will be prompted to enroll for free in the S&S Online School)