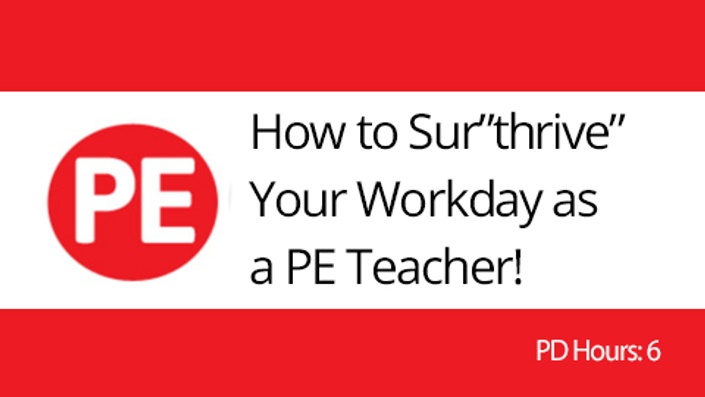 How to Sur"thrive" Your Workday as a PE Teacher!
Strategies to Break Out of the Repetition and Assembly Line Nature of a Tireless PE Schedule
This course will take approximately 6 hours to complete. If you have any questions about the course, please email us at "[email protected]".

Need to get your Professional Development Credits approved by administration? Download the course description to provide them here.

Target Audience: K-12 physical education instructors who desire to improve the quality of their work experience while maintaining passion and enthusiasm!
Course Purpose:
To help PE teachers develop practical ways to Sur"Thrive" and not just survive the rigorous and repetitive workday!
Course Description:
The course is designed to help teachers implement practices into their workday to maintain energy, passion, and enthusiasm. My goal is that this course will help teachers to enjoy their workday more and to ensure that students have an enthusiastic atmosphere to learn in. The course will cover practical ways to implement life sustaining practices into your unique schedule and work scenario.
Course Goals:
To give teachers new ways to improve their work experience.
Teachers will identify difficulties and challenges of the workday experience in PE.
Teachers will use creativity to add meaningful experiences to their unique workday schedule.
Teachers will explore and implement methods to battle fatigue by practicing healthy psychological, physical, and nutritional habits during the workday.
Teachers will learn how to implement their own physical activity interests into the PE curriculum.
Teachers will explore opportunities to create an enthusiastic atmosphere in their classrooms.
Teachers will develop a personal mission statement, goals and a game plan to Sur"Thrive" the rigorous day.
Technology needed to complete:
You will need a computer and/or tablet, Microsoft Word and PowerPoint. You will also need a valid email address to contact the instructor or turn in materials.
Course Design/Schedule:
We have estimated this course will take approximately 6 clock hours to complete. This will vary with every learner. Since the course will take approximately 6 hours you could apply for 6 professional development hours from your school/school district. Make sure to check with your principal or professional development coordinator to see how this works in your district.
Students can start and complete assignments any time they wish. You will have an instructor that you can contact via email for help, and you will turn in some of your assignments via email to your mentor. Your instructor will communicate with you via email. The instructor will also review most of your work to make sure you are making the appropriate progress. You will not earn a letter grade from this course.
Standards: Source: SHAPE America National Standards for K-12 Physical Education (2016).
Standard 1 - The physically literate individual demonstrates competency in a variety of motor skills and movement patterns.
Standard 2 - The physically literate individual applies knowledge of concepts, principles, strategies and tactics related to movement and performance.
Standard 3 - The physically literate individual demonstrates the knowledge and skills to achieve and maintain a health-enhancing level of physical activity and fitness.
Standard 5 - The physically literate individual recognizes the value of physical activity for health, enjoyment, challenge, self-expression and/or social interaction.
Need to get your Professional Development Credits approved by administration? Download the course description to provide them here.

Your Instructor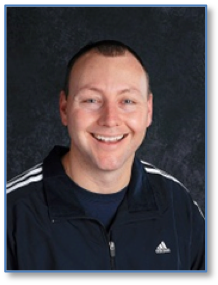 Bryan is in his 20th year as a teacher of elementary physical education and a graduate of the University of West Georgia. He is Nationally Board certified (2008) and recently renewed his certification. He also has obtained his M.Ed and Ed.S. and is currently a Doctoral Candidate at the American College of Education. His hobbies are fishing, hunting, camping, bushcraft and spending time in the great outdoors with his 2 sons, and super wife! He teaches 4 other courses for PE Central and loves to help other teachers.
Course Curriculum
Syllabus and Course Information
Available in days
days after you enroll
Certificate of Completion
Available in days
days after you enroll