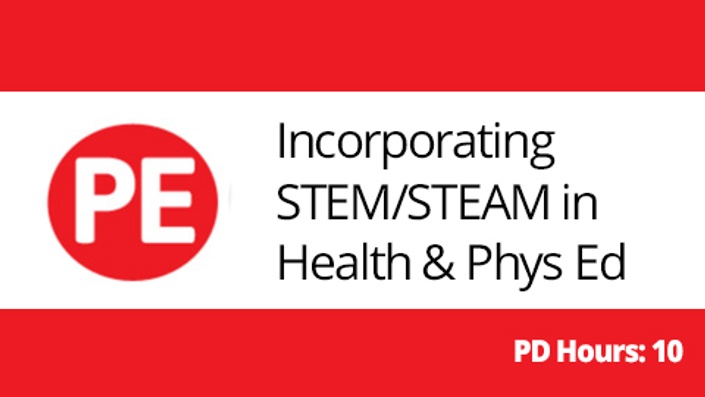 Incorporating STEM/STEAM in Health and Physical Education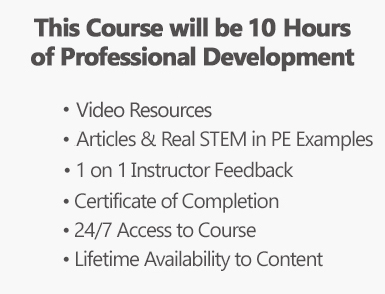 This course will take approximately 10 hours to complete. You can purchase 1 Continuing Education Unit (CEU). If you have any questions please email us at "[email protected]".

Need to get your Professional Development Credits approved by administration? Download the course description to provide them here.

---

Target Audience

This course has been designed for any K-12 health and physical education teacher.
NOTE: You will NOT need access to children to complete this course.
Course Purpose
The purpose of this course is to focus on examining current HPE curriculum alongside existing science, technology, engineering, and mathematics curriculums. The development of 21st Century STEM Lessons for students that will engage and support all learners in the physical education environment will be a primary objective for this course. Our instructor is available to help you throughout this course with any questions you may have.
Course Description
STEM initiatives in education are evolving at a rapid pace. As health and physical educators, STEM or STEAM (Science, Technology, Engineering, Art, and Math) content can be seamlessly integrated into the health and physical education curriculum. This course is designed to provide you with an overview of what STEM in education is, why it is important, and how it aids in the development of a 21st Century Learner. Additionally, you will be asked to review national and state standards specific to STEM and identify what you already do that aligns with STEM initiatives as well as design a STEM infused health or physical education lesson. Upon completion of this course you will prepare a presentation to showcase the natural connection of your work as a health and physical education teacher to STEM education.
Course Objectives
By the end of this course, the student will:
analyze existing STEM and physical education standards and identify common themes

create a STEM and physical education lesson plan

develop a presentation to support STEM and physical education
Reading Materials
All reading materials are available to download in the form of PDF files from within the course module or as links on the web. The reading materials include the following:
Krajcik, J., & Delen, İ. (2017). Engaging learners in STEM education. Eesti Haridusteaduste Ajakiri. Estonian Journal of Education, 5(1), 35-58.
Technology Needed to Complete the Course
You will need a computer or a tablet with an updated browser and Adobe Flash Player to complete this course. In addition, you will need a working and valid email address.
About Your Instructor as it relates to STEM in PE
In addition to the bio that we provide about Misti below we wanted to share some information about her as it relates to this course and the subject of STEM.
Currently, Misti is a consultant for a STEAM initiative for Henrico County Public Schools in Richmond, VA that is being piloted in two middle schools. Every 6th grade teacher, regardless of content, is part of this initiative that is coming out of Health and Physical Education. This is great because it is allowing the HPE teachers to be the experts and facilitate STEAM through sport throughout the entire grade level. For instance the 6th grade Social Studies teachers are investigating the fitness levels of soldiers during a particular time period.

Misti also leads a STEM in SPORTS Service Learning program in Richmond City Public Schools through her Physical Education for the Elementary Classroom Teachers course at VCU. This course allows students to teach STEM lessons that incorporate movement. She is helping the students understand the importance between movement and academics and STEM and content related movement lessons are one way to accomplish that task.
Need to get your Professional Development Credits approved by administration? Download a one-page course description here.

Your Instructor
Misti Mueller is an assistant professor at Virginia Commonwealth University in the School of Education. She has 18 years of public school experience and currently is in her fourth year in higher education. She received her Master's degree in Curriculum and Instruction from VCU, is Nationally Board Certified, and is working toward her PhD in education. She has presented at the National, State, and local levels specifically on the topics of pedagogy, Project Based Learning (PBL) and incorporating technology into the field of health and physical education as a means to enhance the educational experience for students. Misti was chosen as the Virginia Middle School Physical Educator of the Year in 2004, the National Health Educator K-12 in 2010, and was just recently selected as the College/University Physical Educator for the state of Virginia for 2015.
CEU Credit Available for this Course!
This course is available for CEU credits. If you are interested in receiving these credits through the college, click here for more information.