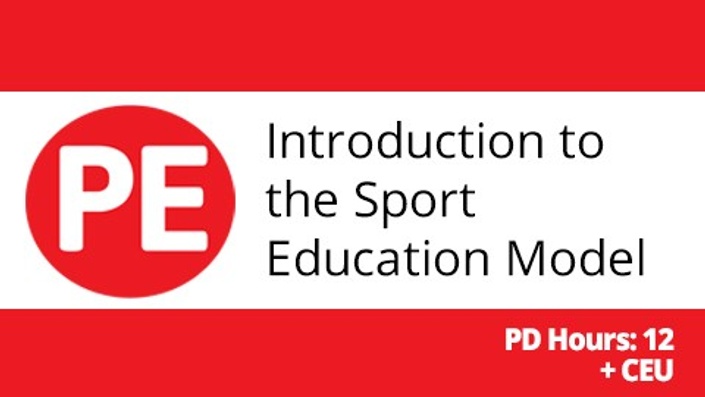 Introduction to the Sport Education Model
Implementing a Student-Centered Curriculum
This course also requires the purchase of a textbook. See details below.
Welcome!

We are excited about your interest in taking our Introduction to the Sport Education Model: Implementing a Student Centered Curriculum Course from PE Central. Below you will find a brief course description, the instructor's biography, and course FAQ's. We estimate that this course will take 12 hours to complete. Once you have completed it, you may request the 12 hours towards your teacher licensure recertification. The course is also eligible for 1 Continuing Education Unit which is an additional cost.
This course requires you to purchase this textbook:
Required at additional cost. The complete guide to Sport Education with online resources, 3rd Edition by Siedentop, D., Hastie, P., & Van der Mars, H. (2020) Human Kinetics Publishers, ISBN: 9781492562511 (Make sure to get the version of the book that has online resources).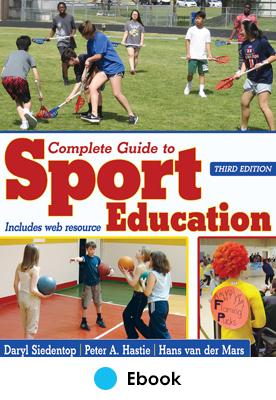 We know you will find this course valuable and enjoyable. If you have any questions please email us at [email protected]
Best of Luck!
Mark Manross, Executive Director, PE Central
Target Audience:
This course is designed primarily for upper elementary - secondary physical education teachers, specifically grades 4-12. Our instructor is here to help you throughout the course with any questions you may have.
Course Purpose:
The purpose of this course is to introduce learners to the Sport Education Model (SEM) of instruction, and to provide practical applications for implementing the teaching strategies into physical education classes.
Course Description:

The Sport Education Model (SEM) is a curriculum and instruction model designed by Daryl Siedentop (Siedentop, 1994) to provide students with authentic experiences that are thorough and enjoyable and contribute to their desire to become and stay physically active throughout their lives. This course will provide enrolled students with the features of the Sport Education Model, and introduce students how to implement the model into existing physical education programs. Students will engage in the content through reading assigned chapters of the required text, accessing the text online resources, videos, quizzes and a culminating assignment.
Course Goals:
On completion of this course, students will be able to:
Explain the concept of the Sport Education Model.
Understand and explain how the Sport Education Model allows students to become accountable for their own learning and arrive at the desired learning outcomes.
Explain the difference between the traditional, technical approaches to teaching vs. the Sport Education Model.
Explain the Sport Education goals and objectives
Design lessons implementing the Sport Education model, incorporating the guided discovery style of teaching.
Assess students through the Sport Education Model utilizing authentic assessment.
Standards:
This course addresses the following standards:
Source: SHAPE America National Standards & Grade-Level Outcomes for K-12 Physical Education (2014).
Standard #1: - The physically literate individual demonstrates competency in a variety of motor skills and movement patterns.
Standard #2: - The physically literate individual applies knowledge of concepts, principles, strategies and tactics related to movement and performance.
Standard #3: - The physically literate individual demonstrates the knowledge and skills to achieve and maintain a health-enhancing level of physical activity and fitness.
Standard #4: - The physically literate individual exhibits responsible personal and social behavior that respects self and others.
Standard #5: - The physically literate individual recognizes the value of physical activity for health, enjoyment, challenge, self-expression and/or social interaction.
Course Design/Schedule
This course will be taught in four separate modules. It is suggested that you complete the modules in order as the information builds upon itself. Each module will take approximately three hours to complete, for a total of 12 hours. Each module includes assignments tied to the text as well as a culminating project to demonstrate student understanding. At the completion of the course you will receive a certificate of completion for 12 PD hours along with the opportunity to purchase 1 Continuing Education Unit. There is an additional cost for this 1 CEU. Further instructions will be made available upon completion of your assignments about obtaining the CEU.
Make sure to check with your principal or professional development coordinator to clarify how professional development hours and credit work in your district.
Students can start and complete assignments any time they wish. You will have an instructor that you can contact via email for help, and you will turn in some of your assignments via email to your mentor. Your instructor will communicate with you via email. The instructor will also review most of your work to make sure you are making the appropriate progress. You will not earn a letter grade from this course.
Need to get your Professional Development Credits approved by administration? Download the course description to provide them here.

Your Instructor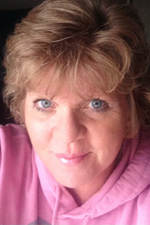 Jennifer has taught K-12 physical education for 12 years, including 5 years in adapted physical education. Earned NBCT in 2006. After earning her PhD in curriculum and instruction in physical education in 2014 from Arizona State University (ASU), she taught higher ed PETE and other kinesiology courses for six years at ASU, Texas A&M San Antonio, and Northern Arizona University (NAU). She is currently working as an adapted physical education specialist, preK-12, for Mesa Public Schools in Mesa, AZ. She has presented at SHAPE, Southwest district as well as our AZHPE state organization several years in a row.
Email: [email protected]
Testimonials
"This is a great way to get all students in PE involved and excited about exercise and sport. I came away from the course with great resources, lesson plans, and assessments.Sport education is a new concept for me and I don't know any schools in Indiana that use this teaching format. I really like how the whole sport (techniques, tactics, officiating/judging, statisticians, announcer, publicist) is emphasized. This allows those students who are not interested in sports or exercise to find a niche. It gets the entire class involved in the activity. I believe this is a great way to build lifelong interest in physical activity."
CEU Credit Available for this Course!
This course is available for CEU credits. If you are interested in receiving these credits through the college, click here for more information.
Check out Frequently Asked Questions Here!
(You will be prompted to enroll for free in the S&S Online School)