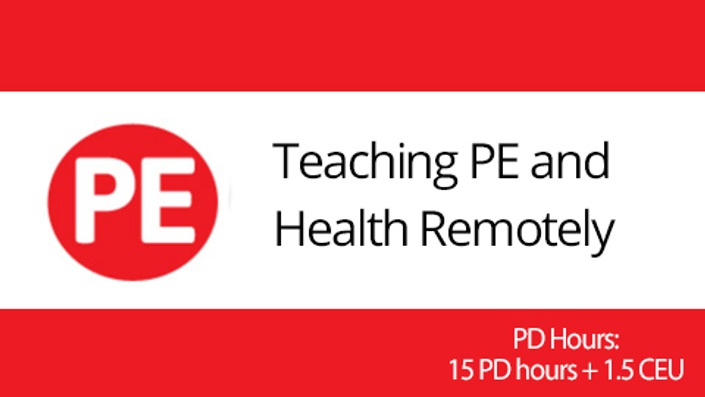 Teaching Physical Education and Health Remotely
Tips & strategies for successfully teaching health and physical education from home
Watch Promo
Testimonials:
"Thanks for putting this together Mr. Silberman. I feel that this course single handedly was the most effective tool I had to learning the different way to reach our students. I was blind but now I can see!" - Joe Zarate, PE Teacher
"My normal summer routine has always been to prepare units and lesson plans for the upcoming school year. Due to the lockdown forced upon us by Covid-19, this year was different in every way! I embarked on a journey to educate and equip myself about teaching my students remotely. After all, that's what teachers do! To complete this quest I enrolled in an online course called Teaching Physical Education and Health Remotely by Mr. Charles Silberman. Everything about this course was exciting to me! I learned so much about the options I have and the versatility that it allows me to display when putting my lessons together using various learning platforms, using my kids and myself in content material needed for this virtual setting. It helped me to provide lessons that are more authentic, innovative and dynamic.
Blended learning and incorporating technology in the classroom has always been something that teachers, parents and students debated about. Often times, even when we are equipment with the necessary things, organizing them in a way to deliver meaningful instruction and learning opportunities is challenging. So yes! The transition from physical classroom to an online setting is very complex. This course has made me faced the music! I've confronted features of teaching and learning that have always been true but was reluctant to use and provide my students with more options and variety. I know so much more and look forward to utilizing all that I've learned.
The toughest part about this course was managing my time and deciding which platform was best for my students and their parent. The final project made me demonstrate all that I learned. This was my first time using a learning/teaching platforms so it took more time than I anticipated. Nonetheless, I got it done shared my testimony to my school administrators.
In a nutshell, I am renewed and rejuvenated! The modules in this course were well needed. What I learned and was able to do has me even more prepared for the opening of our public schools." - Sherline Moss, Elementary PE Teacher, Nassau, The Bahamas
"I was thrilled when I came across the online courses offered by S+S Worldwide Online Learning through PE Central. I signed up for the two that I thought would give me the best jump on returning to school this fall: Teaching Health and PE Remotely and Physically Distanced Physical Education. I just completed Teaching Health and PE Remotely and was blown away by the curriculum. The instructor, Charles Silberman, has laid out a comprehensive course that covers everything from new tech apps that are perfect for the classroom, to assessing students online, to developing connections with students and parents. The resources alone will be something that I can return to again and again. Charles is clear in what he is delivering, sets up assignments that challenge you to implement what you are learning, and gives great feedback after assignments are completed. His final thoughts of where we are today as teachers and what we have to do moving forward helped those of us taking the course to feel validated, encouraged and inspired to do our best. I highly recommend this course." -
Elisabeth B.
"Charles Silberman was the class instructor, and I would like to say this...He was fabulous!! I absolutely appreciated his prompt responses and comments to completed assignments and his willingness to answer questions. Thank you for an AWESOME class and AWESOME learning experience." - Rich M.
"Thank you so much Mr. Silberman. I truly enjoyed this course and really do feel ready now to tackle distance learning. Before this I felt overwhelmed with it all. However, I can see how I can do so many different things to keep students engaged but accountable. I look forward to sharing my new knowledge with my colleagues next week and with my students when we return to the gym." - Gretchen B.
"The course materials were easy to access and extremely helpful. I was able to work through the course at my own pace and my instructor Charles did a great job at communicating which is critical when distance is involved. Charles's feedback was wonderful, he always provided positive feedback then showed how to take the assignment one step further for the benefit of my students. I thoroughly enjoyed the course a d highly recommend this course to anyone who wishes to learn more about teaching PE online. - Kim E., Middle School PE teacher, Johannesburg, South Africa."
"The course description is accurate. This class is a practical one.You will – by the end, have created your own online learning lesson using the tool that best fits your students' needs which, if purposeful from the very beginning modules, you will be able to plug directly into your online environment. Disclaimer: This was my first ever online course and I had no idea what to expect! I also am rather new to the Google Suites platform, so that made it even more challenging. I doubted my abilities with every module. However, besides the culminating final assignment, another lesson I never expected to walk away with was experiencing the importance of positive feedback. The instructor, Charles Silberman, was so encouraging, supportive and timely in his feedback to every assignment, that it made me want to try even harder. I will take that lesson with me when I interact with my students if we are faced with more online teaching in the future. It truly was a positive experience." - Mary H.

"I would highly recommend taking Charles Silberman course, "Teaching Physical Education and Health Remotely" His course provides numerous ways to develop effective lessons that will have your students engaged and having fun while learning from home. My computer skills and knowledge are very limited. This course has introduced me to numerous ways of teaching physical education and health remotely. The main benefit came from doing the assignments and receiving individual feedback. Charles responds quickly to emails, provided individual videos to help guide you through an assignment, and goes above and beyond to ensure you feel comfortable with the material being taught in the course. Coming off a spring semester of stressful remote teaching, I knew I needed to find a way to be a more effective PE teacher from the computer. This course has given me the confidence and knowledge to make this happen. Sign up today!" - Dodie M.

"This class was exactly what I needed to feel completely prepared for remote teaching. It touched on every aspect from communication, assessment, behavior, and technology. The resources provided were endless and I will be referencing them in the future. The instructor was very responsive and gave great feedback. The final assignment pulled everything together and left me with a template for remote teaching that I can change and adapt and feel confident and comfortable with. I can't wait to use what I've learned and build on it from here." - Laura C
This course will take approximately 15 hours to complete. You can purchase 1.5 CEU's if you wish from Adams State University. If you have any questions about the course, please email us at "[email protected]".
Proceeds to Benefit No Kids Hungry
Our instructor is generously donating a portion of the proceeds from the sales of this course during the COVID-19 pandemic to go to the nonprofit No Kids Hungry. Learn more about them on their website

.
Course Description for Credit Approval
Need to get your Professional Development Hours/Credits approved by administration? Download the course description to provide them here.

Welcome!
We are excited about your interest in taking this online course from PE Central. Below you will find a brief course description, the instructor's biography, and course FAQ's. We estimate that this course will take 15 hours to complete. Once you have completed it, you may request the 15 PD hours towards your teacher licensure re-certification. In addition, 1.5 Continuing Education Units (CEU's) are available for an additional fee. Additional information about purchasing the CEU's are provided upon completion of the course. If you have any questions please email us at "[email protected]".
Best of Luck!
Mark Manross, Executive Director, PE Central
---
Course Description:
The COVID-19 pandemic in 2020 changed how we teach and the way students learn in an instant. With no adequate time to prepare for taking physical education and health online, many teachers did not have the tools, knowledge, and resources to take this task on. This course is designed to help teachers teach more effectively and efficiently in an online situation, so students are engaged and learning to their maximum ability.
Through this course, you will be taken through how to adapt subjects to teach them remotely, various online teaching and learning platforms, and how to use them. The class will also cover online communication tools and methods to use and how to use them, digital assessment strategies, online student engagement tools, and best practices for online learning and teaching. This course will let you do your best teaching in unimaginable circumstances, and you will walk away from it, having designed your own online lesson using the tool that best fits your students' needs. This class is a practical one to help you not only make distance learning genuinely work, but to show you that you can use what you learn here to enhance your instruction if you are not teaching from home.
Target Audience:
This course has been designed for K-12 physical educators and health teachers, before or after school personnel and classroom teachers responsible for teaching health or physical education. It is also is intended for those who 1) are required to teach physical education remotely due to a local or national emergency 2) who want to learn how to enhance their physical education and health programs through online instruction.
Course Purpose/Objectives:
The course explores and demonstrates practical ways to teach physical education and health remotely. Objectives include deciding what subject to teach and how to teach online, analyzing how to use proper online learning tools, learning how to communicate with students and parents digitally effectively. The course also looks at creating useful and engaging lessons, assessing students effectively remotely, keeping students engaged and accountable online, and identifying best practices for online learning and teaching.
Discover innovative, practical methods to equip yourself to teach remotely effectively and efficiently while allowing students to get the most from this unique learning environment. Plus, the course comes with hundreds of ready-made distance learning resources all in one location. By the end of the course, students will walk away with the knowledge they need to create a completely self-sustaining online learning environment, including all aspects required to make this a reality.
Learning Outcomes
After completing this course, users will be able to:
1. Identify the importance of online Physical Education and Health
2. Adapt units to a remote learning situation
3. Identify the most effective and widely used remote learning tools and how to use them
4. Identify strategies to keep students accountable for learning and behavior online
5. Identify and analyze assessment strategies for distance learning
6. Identify useful online communication tools for remote learning
7. Identify and evaluate best practices for remote teaching and learning
8. Examine exemplar online learning environments and create an online learning environment
Standards:
This course addresses the following standards:
Source: SHAPE America
Physical Education – The physically literate individual:
Standard 1: Demonstrates competency in a variety of motor skills and movement patterns.
Standard 2: Applies knowledge of concepts, principles, strategies, and tactics related to movement and performance.
Standard 4: Exhibits responsible personal and social behavior that respects self and others.
Standard 5: Recognizes the value of physical activity for health, enjoyment, challenge, self-expression, or social interaction.
Health – Students will demonstrate the ability to:
Standard 4: Use interpersonal communication skills to enhance health and avoid or reduce health risks.
Standard 5: Use decision-making skills to enhance health.
Standard 6: Use goal-setting skills to enhance health.
Standard 7: Practice health-enhancing behaviors and avoid or reduce health risks.
Standard 8: Advocate for personal, family, and community health.
Downloadable Materials
Downloadable templates will be available within course modules.
Viewing Animated Videos:
Videos within the course provide instructions and clarifications from various and regarded institutions. These videos range in duration.
Viewing External Content:
At times throughout the course, students will be instructed to visit external sites to view videos, articles, or both. Each time external content will open in a new, separate window, which will require students to close when completed and return to the course.
Need to get this course approved by your administration and PD Coordinator? Download the course description here.

Your Instructor
Charles Silberman is a physical education and health teacher with 18 years of teaching experience. He has become a leader and advocates for incoming physical educators by running workshops on integrating literacy into physical education, teaching in limited space, and creating a field day that shines. Charles has advocated on these topics by presenting at staff in-services and conferences, assisting with new teacher orientations, and other initiatives.
Also, Charles teaches 5 other classes for PE Central, has four webinars for PE Central, and regularly contributes to the S&S Worldwide blog. Moreover, he has experience writing curriculum from scratch and writing published information specific to physical education in the state and nationally recognized publications and websites. Charles is the founder of physedsuperhero.com. Charles is also a contributing author to the book, "How to be an Outstanding Physical Education Teacher."
Feel free to reach out to Charles with any questions during any of his courses.
CEU Credit Available for this Course!
This course is available for CEU credits. If you are interested in receiving these credits through the college, click here for more information.