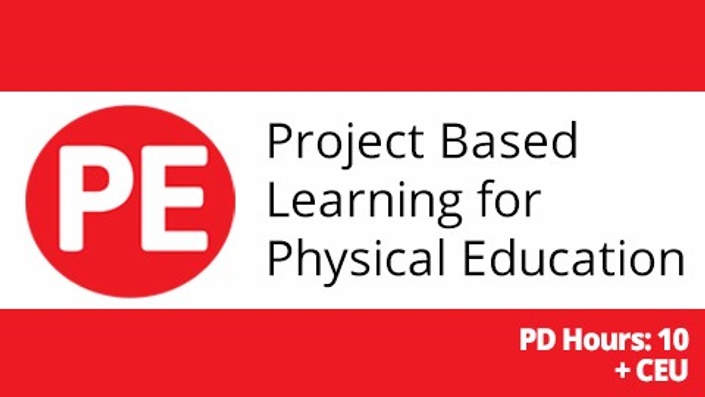 Project Based Learning for Physical Education
An Intro to Personalized Learning using Projects in Physical Education
Welcome!

We are excited about your interest in taking this Project Based Personalized Learning Course from PE Central. Below you will find a brief course description, the instructor's biography, and course FAQ's. We estimate that this course will take 10 hours to complete. Once you have completed it, you may request the 10 hours towards your teacher licensure recertification. In addition, this course is eligible for CEU credit, details are below.
We know you will find this course valuable and enjoyable. If you have any questions please email us at [email protected]
Best of Luck!
Mark Manross, Executive Director, PE Central
Need to get your Professional Development Credits approved by administration? Download the course description to provide them here.


---
Target Audience:

We have designed this online course for a variety of teachers ranging from upper elementary through high school physical education teachers. This is a basic introductory course to help understand personalized learning and how it fits into a physical education setting.
Course Purpose:

The purpose of this course is to introduce the overall concept of personalized learning in physical education. It will provide basic practices that help to enhance instruction through personalized learning in the physical education classroom. Through the use of project based learning (which is a form of personalized learning), the participants in this class will engage in creating a lesson that allows students to become self-directed using individualized instruction.
Course Description:
Personalized learning is taking education by storm and we need to determine what it looks like in physical education. This course will help physical education teachers learn how to design and implement project based learning with voice and choice so they can offer more innovative lessons for their students.
Course Goals:
On completion of this course students will be able to:
• Understand and explain personalized learning and its value in physical education.
• Analyze lessons and identify elements related to personalized learning.
• Create a project based learning project for Physical Education students.

Standards:
This course addresses the following standards:

Source: SHAPE America National Standards & Grade-Level Outcomes for K-12 Physical Education (2014).
Standard #1: The physically literate individual demonstrates competency in a variety of motor skills and movement patterns.
Standard #2: The physically literate individual applies knowledge of concepts, principles, strategies and tactics related to movement and performance.

Reading Materials:

All reading materials are available to download in the form of PDF files from within the course platform.

Technology needed to complete:
You will need a computer (tablet does not work at this time) with an updated browser and Adobe Flash Player to complete the course. In addition, you will need a working and valid email address.

Access to students between the ages of 9 and 18:
To successfully complete this course, you will need to have access to children as you will create your own project based learning lesson and then have children complete the lesson. Preferably, you would have children in a physical education class, but if you do not have access you could have children in the neighborhood or your own children complete. The children must be between the upper elementary (4th and 5th graders) to high school students. You can complete using just one child.


Need to get your Professional Development Credits approved by administration? Download the course description to provide them here.

Your Instructor
Misti Mueller is an assistant professor at Virginia Commonwealth University in the School of Education. She has 18 years of public school experience and currently is in her fourth year in higher education. She received her Master's degree in Curriculum and Instruction from VCU, is Nationally Board Certified, and is working toward her PhD in education. She has presented at the National, State, and local levels specifically on the topics of pedagogy, Project Based Learning (PBL) and incorporating technology into the field of health and physical education as a means to enhance the educational experience for students. Misti was chosen as the Virginia Middle School Physical Educator of the Year in 2004, the National Health Educator K-12 in 2010, and was just recently selected as the College/University Physical Educator for the state of Virginia for 2015.
Testimonials
"This class was awesome. I love that the main assignment was creating a project that I can now implement with my classes. And not only did I create a project, the project is likely to be successful from the start because I received feedback from an expert before I even tried it for the first time. Feel like the chances for successful PBL implementation are super high after this course!"
- Kate C.
"The likelihood of me implementing a PBL project like this in PE is very high. As a school district we are looking at making changes in physical education minutes. Students will have PE everyday for 31 minutes, giving them more then the 120 minute ny state mandate. This now allows more time for educations to get lesson such as PBL into a unit. The takeaway from thiws course on developing a PBL lesson plan is that I now see how you can have a PBL lesson and still keep the students active and moving in class. (trial runs)"
- Pamela L.
"As a professional I have many takeaways from the course. As teachers we need to develop and learn just like our students. Learning new way to teach is extremely important. Every student is different in so many ways and giving them different forms of learning will only benefit their learning experience."
- Maichael T.
CEU Credit Available for this Course!
This course is available for CEU credits. If you are interested in receiving these credits through the college, click here for more information.