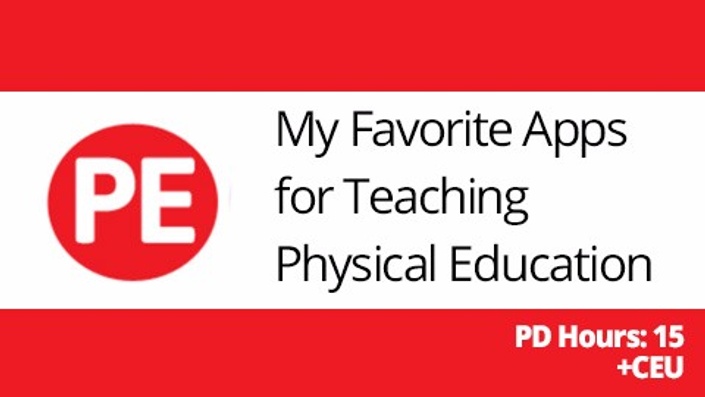 My Favorite Apps for Teaching Physical Education
Learning to use technology tools to enhance your PE Classes
Welcome!
We are excited about your interest in taking this online course from PE Central. Below you will find a brief course description, the instructor's biography, and course FAQ's. We estimate that this course will take 15 hours to complete. Once you have completed it, you may request the 15 hours towards your teacher licensure re-certification. In addition, 1.5 Continuing Education Units (CEU's) are available for an additional fee. Additional information about purchasing the CEU's will be provided upon completion of the course. We know you will find this course valuable and enjoyable. If you have any questions please email us at "[email protected]".
NOTE: This course has tutorials/assignments that are solely tailored to teachers who use Apple IOS products only.
Best of Luck!
Mark Manross, Executive Director, PE Central

Target Audience:

This course is for any K-12 Physical Educator who wants to increase their technology proficiency by learning how to use different apps in their Physical Education Classes. If you want to save time, become a more effective educator, motivate your students and learn to advocate for your physical education program, this course is for you.
Course Purpose:
The purpose of this course is to demonstrate various ways to use different apps (specifically iOS apps for iPad or iPhone) to accomplish a multitude of desirable outcomes in your teaching. After going through the course students will gain practical knowledge about lots of different ways to use apps in your physical education classes and to help yourself stay organized.
Course Description:
This course is designed to teach students how to use different apps to help enhance their PE classes. We will also go over some tools that will make management of your day to day teaching responsibilities a little bit easier. Lastly, you will learn some tools that will help you advocate for your program, motivate your students and assess student learning.
Course Goals:
On completion of this course learners will be able to use an iOS device to:
Allow students to view replays of themselves performing different skills, such as throwing, kicking, dancing or performing gymnastics routines.
Create custom group or individual workouts that students can follow along to.
Create video highlights of student activities that they can easily share with parents, teachers or administrators to advocate for their PE Programs.
Divide students into teams quickly based on skill level, gender or randomly.
Create automatic intervals for station work or interval exercise training.
Use their phone or iPad as a digital whiteboard to draw diagrams for students or highlight any handouts or worksheets.
Turn their device into a scanner which can scan and email documents quickly and effectively.
Motivate students by using timers or stopwatches for different activities.
Use QR Codes to easily link any content on the web to an easily scannable document.
Assess student knowledge quickly without using paper and pencil and have answers recorded automatically to your device.
Create moving wall targets for a fun throwing activity.
Reading Materials:
Any reading materials are available to download in the form of PDF files from within the course module.
Technology needed to complete:
A computer and/or a an iPad or iPhone
A Google Drive account (optional but very helpful).
You'll need a way to project your device in order to implement about half of the skills learned in the course (optional, but recommended)

Eg. Smartboard, Projector, TV

You may use any valid email address to contact the instructor or turn in completed assignments
Course Design/Schedule:
We have estimated this module will take approximately 15 clock hours to complete. This estimated time will vary with every learner. Since the course will take approximately 15 hours you could apply for 15 professional development hours/points from your school/school district. Make sure to check with your principal or professional development coordinator to see how this works in your district. An optional CEU is available for additional cost from St. Mary's College in California.
Students can start and complete assignments any time they wish. You will have an instructor that you can contact via email or twitter for help if needed.
You will not earn a letter grade from this course.
Some of the apps that Ben guides you through are Lazy Monster, Insta Record, TeamShake, Plickers, Google Forms and 10 more!
Standards:
Source: SHAPE America National Standards for K-12 Physical Education (2016).
Standard 1 - The physically literate individual demonstrates competency in a variety of motor skills and movement patterns.
Standard 2 - The physically literate individual applies knowledge of concepts, principles, strategies and tactics related to movement and performance.
Standard 3 - The physically literate individual demonstrates the knowledge and skills to achieve and maintain a health-enhancing level of physical activity and fitness.
Standard 5 - The physically literate individual recognizes the value of physical activity for health, enjoyment, challenge, self-expression and/or social interaction.
NOTE: This course has tutorials/assignments that are solely tailored to teachers who use Apple IOS products only.

Need to get your Professional Development Credits approved by administration? Download the course description to provide them here.
Your Instructor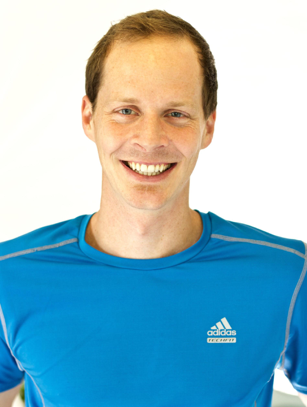 Ben Landers is a K-12 certified Physical Education teacher and has been teaching K-5th Physical Education since 2007. He has completed National Board Certification in PE and also has a Masters in Education from Southern Wesleyan University and a Masters in Educational Leadership from University of South Carolina. Ben also serves as a Clinical Model Teacher for the University of South Carolina, helping to mentor future Physical Education teachers as part of their graduation requirement.
He has a passion for kids and teaching quality physical education lessons that will empower students to be the best they can be. Being a PE teacher is such a great opportunity to have a positive impact on the kids that you teach, but his hope is to also impact more students through providing resources and ideas to teachers. Ben started the website "ThePEspecialist.com" in 2014 to share his knowledge, inspire teachers, add value to the Physical Education community and help solve some of the problems that teachers are struggling with in schools today. Ben is very excited to be offering all of his knowledge about his favorite PE apps in this course. Please contact him at any time with any questions.
Testimonials
"I wasn't sure if I would gain anything from taking this course but was pleasantly surprised! I felt that I would definitely try a few of the apps to get started, and then hopefully experiment with more that now are beyond my comfort tech levels. My students are K-3 so the ones that would help me the most were: Workout apps, especially the Sworkit Kids... like that I can preprogram routines for them to visually see and follow. I also would use the imovie w the movie trailer... love the choices to adapt it like a real trailer from an actual movie, staring us! QR codes are also something that I feel once I learn it, I could implement it immediately. Team shake was cool and I would like to try that app as well. Thank you for the great videos... I actually learned a lot and are ready to add tech to my PE lessons."
"My classes start next week so I will creating an iMovie to send within the next couple of weeks. Thanks for all the great information. I look forward to implementing a couple of these apps this year."


"I am so excited to FINALLY find a technology class for P.E. Teachers. I've played around with many things on my own but have sat through many in-service hours that do no help my instruction. So thank you in advance for helping an "older" generation P.E. instructor get in the 20th century!."
"This class was very informative and filled with useful tools I put into practice within minutes. You can move along at your own pace, from any device, at home or at work. Also, although I was already using some of the apps covered, I learned new ways to use them and/or capabilities of the apps I was unaware of. It's a great value for PD credits, the information and the knowledge gained to become a more effective and efficient teacher. I highly recommend it!"
CEU Credit Available for this Course!
This course is available for CEU credits. If you are interested in receiving these credits through the college, click here for more information.
Check out Frequently Asked Questions Here!
(You will be prompted to enroll for free in the S&S Online School)