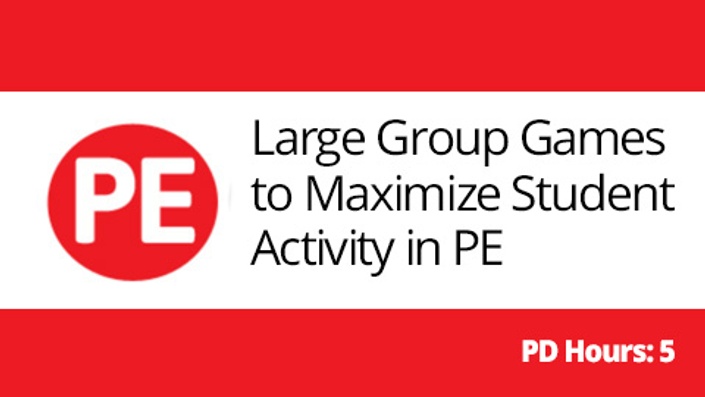 Using Large Group Games to Maximize Student Activity in PE
TESTIMONIALS
"I have just completed my online PD course Using Large Group Games to Maximize Student Activity in PE. I Would like to express my gratitude to my instructor Mr. Dave Senecal for creating this wonderful online PD. which gave me tools to be more creative in my PE lessons. - Ron M.

"Thank you so much for offering this course. It was filled with great resources and reflection pieces. It helped me realize that we are implementing many of the suggestions. I loved the resource on a variety of ways to group students and will be using this resource to find the best way to meet students' needs. Also, thanks for sharing your book!!!" - Heather R.
"I graduated from college with my PE degree in 1973 but only began teaching PE in 2013 as a part time teacher. I am getting clock hours to renew my certificate and was tired of taking classes offered by my district which were not relevant to teaching PE. This was a great course to confirm what I am doing and to get some new information to incorporate into an old timers teaching. Whether I have been teaching or coaching I've always believed in a "ball" for every student and no lines waiting your turn. This course affirmed my belief and the 80/80 rule made it a measurable goal. Thanks " - Kenneth M.
"This was a great course for me. It helped me gain insight as to how to manage my large classes effectively, using class managers, equipment helpers, etc.. It also made me really think about how I spend my class periods: getting students started quickly with an instance warm up activity and keeping the students engaged in activity for the majority of my class period. The Large Group Games Book will give me some great ideas as to games/skills/activities I can use with my students." - Megan N.
"My biggest take away is definitely the 80/80 rule. I like ideas for instant activity and I have been reinforced that my structured environment is a necessary part of PE." - Julie C.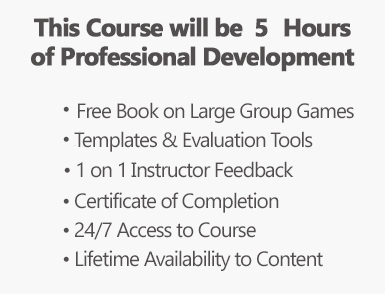 This course will take approximately 5 hours to complete. If you have any questions about the course, please email us at "[email protected]".

Need to get your Professional Development Credits approved by administration? Download the course description to provide them here.

---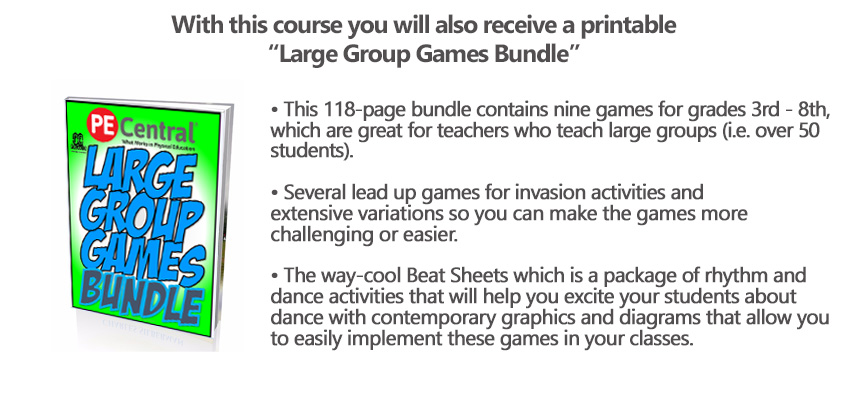 ---
Target Audience:
This course has been designed for and K-12 physical education teacher that have been given large class sizes looking for innovative ways to maximize activity participation in physical education class.
Course Purpose/Objectives:
This course was developed to empower the physical education specialist with the tools needed to effectively implement and facilitate activities that will engage all students physically and emotionally. In these economic times more and more students are not playing mainstream sports, therefore, the physical education teacher's role is more important than ever. We must find ways to keep activity high and enjoyment of activity higher. Class sizes continue to increase, and resources continue to decrease, therefore, the physical education specialist must find new ways to introduce safe ways to play and learn in a large group setting. This course hopes to help with this dilemma.
Course objectives are to:
provide tools to implement and facilitate large group games

provide tools for planning large group games

increase student physical activity

increase student emotional wellness
Course Description:
Many teachers have to face the harsh reality of teaching large classes. Due to budget cuts and pressure to perform academically physical education classes tend to get bigger rather than smaller. Research has shown that the more students you have in a physical education class, the less likely that class is to reach maximum participation. Sometimes physical educators feel that more discipline takes place then activity with larger class sizes. Therefore, this course is designed to help physical education teachers design lessons to provide for maximum activity in large class sizes through rituals and routines, classroom setup and instructional strategies.
This course will focus on large group games. Large groups games are designed to fill an entire class period and follow the 80/80 rule. The 80/80 rule should be a bare minimum of activity that all students should achieve each class period. 80 percent of your students should be active 80 percent of the time. So being eliminated entirely from a game should never be an option. Large group games work best if the planning prior to class has been completed. Also, large group games should provide every child with a role so that they can feel successful no matter what the end outcome of the game.Large group games could require more equipment so that students have more opportunities to be involved but that is not always the case. Also, these games might require a large space like a gym, field, or large room and safe for play. Students will also be given a multitude of repetition in a variety of manipulative skills. Large group games are also vital in promoting unity, teamwork, camaraderie, or teaching valuable lessons. Most importantly large group games should be FUN!
With all of this in mind, the art of creating and implementing large group games successfully comes down to exceptional planning. This planning should focus on time savers within the class to increase activity time for the students. Also keep in mind that large groups can be managed appropriately with other teaching strategies like collaborative grouping and small sided games. The goal remains the same – 80% of your students need to be active 80% of the time.
Course Goals:
On completion of this course, students will be able to:
understand various factors that affect the classroom and how to address them

identify strategies that maximize activity in large classes

identify practical skills needed to manage a classroom

identify ways to prevent, manage, and solve classroom problems

understand and explain how to effectively collaborate with others in the school and surrounding schools

design a lesson plan that state specific classroom procedures, routines, rules, set up and expectations

design lessons that incorporates the maximum activity strategies

Standards:
This course addresses the following standards:
Source: SHAPE America National Standards for K-12 Physical Education (2016).
Standard 1- The physically literate individual demonstrates competency in a variety of motor skills and movement patterns.
Standard 2- The physically literate individual applies knowledge of concepts, principles, strategies, and tactics related to movement and performance.
Standard 3- The physically literate individual demonstrates the knowledge and skills to achieve and maintain a health-enhancing level of physical activity and fitness.
Standard 4- The physically literate individual exhibits responsible personal and social behavior that respects self and others.
Standard 5- The physically literate individual recognizes the value of physical activity for health, enjoyment, challenge, self-expression, and/or social interaction.
Need to get your Professional Development Credits approved by administration? Download the course description to provide them here.

Your Instructor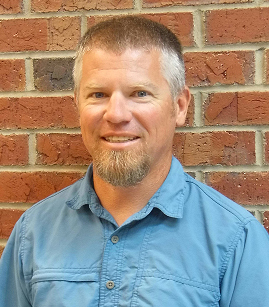 Dave has been a Physical Education teacher in Paulding County, GA since 1997. He earned his bachelor's degree in Physical Education from Kennesaw State and his Master's degree in Physical Education Curriculum and Instruction from Western Kentucky. He opened Nebo Elementary school where he built a well-respected program and earned Teacher of the Year in 2012. He earned Teacher of Year in 2015 for his innovative program at P.B. Ritch Middle School. Dave also was awarded the prestigious 2015 GAHPERD and Southern District SHAPE America Middle School Teacher of the Year. He has also served as the volunteer elementary and middle physical education professional development coordinator for his district. In 2008, Dave was selected to be on a team of sixteen physical education specialists to write the current Georgia Physical Education Standards. Dave developed the "PEPALOOZA Workshops" and has presented at many local, state and national conventions. He has secured over $40,000 in grants that have led to the purchase of classroom sets of equipment that have allowed many middle school students to experience activities such as rugby, disc golf, longboarding, circus arts, fly fishing, back packing, yoga and mountain biking. Dave also enjoys adding technology to his teaching at every chance he can using many apps that encourage his kids to stay active in the 21st century.