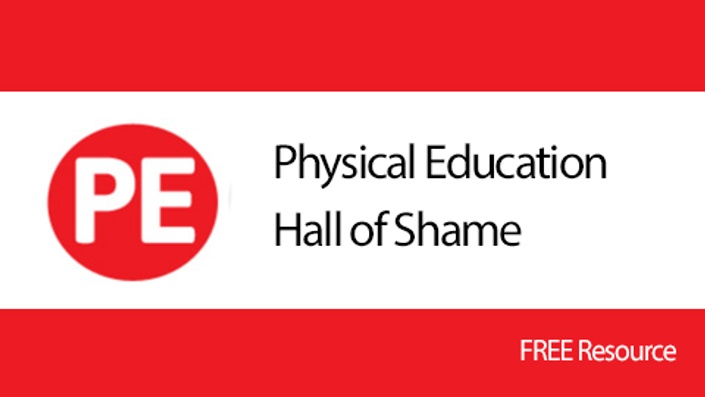 Physical Education Hall of Shame FREE Resource
A FREE Resource Containing Inappropriate PE Activities & Teaching Practices
This FREE resource (it is not a course) features activities and teaching practices that have been inducted into the Physical Education Hall of Shame, which began back in 1993 in an article by Neil Williams published in SHAPE America's Journal of Physical Education, Recreation and Dance (JOPERD). The purpose of the Hall of Shame is to feature activities and teaching practices that are inappropriate and, in their traditional pure form, should not be included in a Physical Education Program.
This version of the document is totally updated with new contemporary graphics and links to alternative activities that will take you to activities that are appropriate to offer children in the Physical Education setting. You can print these as posters and post in your gym or share them with parents at Parent / Teacher conferences to show that you choose not to include these in their traditional form in your program. In addition, we think this document should be shared with every student in college who is training to be a Physical Education Teacher.
There are 20 Hall of Shame teaching practices and activities included in this document. They are listed below. Please understand that these are all inducted as traditional activities. If they are modified to make appropriate for all children then that is encouraged.
Inappropriate Teaching Practices (7)
1 Line, 1 Ball, 1 Chance
Exercise as Punishment
Inappropriate Sized Equipment
Roll Out the Ball
Student Captains Choosing Teams
Squad Line Attendance
Students on Display
Inappropriate Activities (13)
Capture the Flag
Clean Out the Backyard
Climb the Rope
Duck, Duck, Goose
Elimination Dodgeball
Kickball
Musical Chairs
Line Soccer
Relay Races
Scooter Soccer
Simon Says
Tug of War
Red Rover
Samples: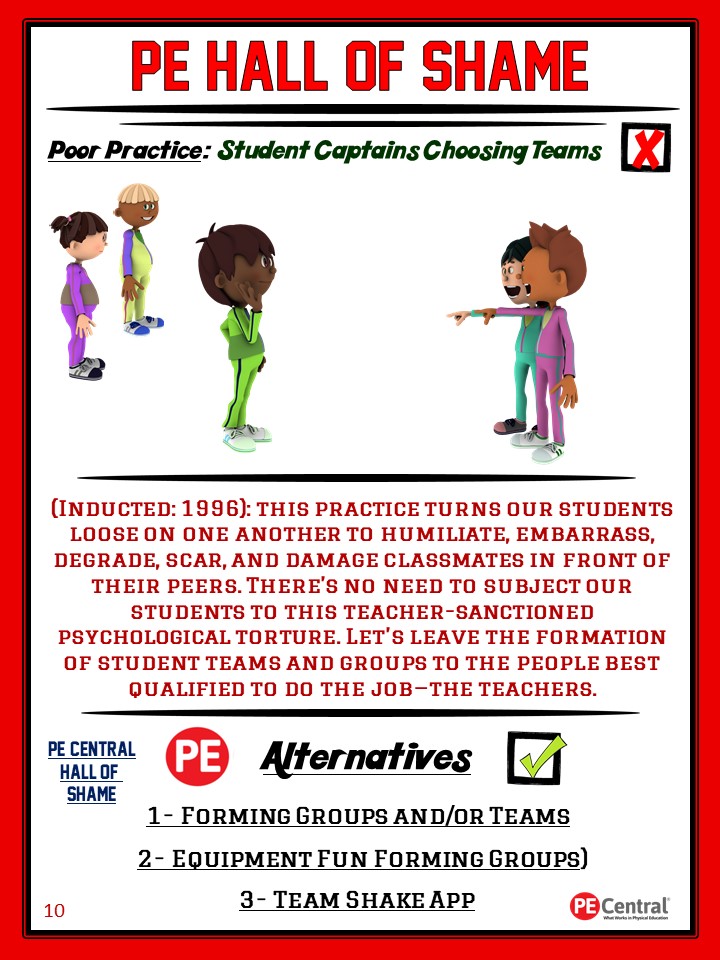 Acknowledgements:
We want to thank Pete Charrette for his amazing contributions to this document as he did a marvelous job in making this document contemporary and appealing. The graphics and style of the document make it come alive and a must have for any teacher who wants to provide a high quality experience for ALL children that are in their Physical Education classes.
*There are no certificates for this course. It is a free resource and an opportunity to communicate and share with your peers and others.

Course Curriculum
Physical Education Hall of Shame
Available in days
days after you enroll
Your Instructor

PE Central (pecentral.org) is the most widely used Web site for health and physical education teachers, parents, and students in the country. Resources on the site include over 2000 physical education and health lesson ideas and Best Practices, Professional Development online courses and on-site workshops, a growing media center including 100+ videos, and a series of programs designed to motivate children to improve their fitness levels (Log It), activity skills (The PE Central Challenge) and their health and nutrition knowledge.