How to Plan and Execute a Successful Field Day
Making Your Field Day Shine!
Welcome!
We are excited about your interest in taking this online course from PE Central. Below you will find a brief course description, the instructor's biography, and course FAQ's. We estimate that this course will take 10 hours to complete. Once you have completed it, you may request the 10 hours towards your teacher licensure re-certification. You can also purchase one CEU upon completion of the course. More details below about this.
We know you will find this course valuable and enjoyable. If you have any questions please email us at [email protected].
Best of Luck!
Mark Manross, Executive Director, PE Central
---
Target Audience

This course has been designed for all physical education teachers, as elementary, middle, and high schools are able to plan a field day or similar all-day sports-based event. For this course, students focus on understanding the importance of a field day, the components and considerations that go into the planning and execution process, and all the documents to make field day come to life. This includes walking away from the course with a complete, proven system for efficiently and effectively planning a field day that shines. Our instructor is here to help you throughout the course.
Course Purpose
The purpose of this course is to walk the student through the process of understanding all the nuances that go into planning and executing a successful field day that is exceptional. This course aims to teach students the process of planning a field day from start to finish. This includes the planning process, communicating to stakeholders involved, choosing a theme, choosing activities, when to take what steps, and what documents to use in the process. This course is designed to show students exemplar field day videos and planning documents, which will allow students to create their own field day planning guide that can be used through the duration of their career in any teaching situation.
Course Description
Field day is an exciting time of the year for everyone involved in the process. Students get a day or more to enjoy game play with friends, parents get the chance to be a part of their children's special day, the community has a chance to support the school, its students and teachers, and teachers enjoy a day that is interactive and fun. However, planning such an event is not as easy as it sounds. Most physical education teaching programs and student teaching experiences do not instruct physical educators how to plan a field day.
Unfortunately, many physical education teachers learn how to plan their first field day by trial and error. And when a teacher must change schools, or the school they work in changes in some way, the physical educator must adjust the field day accordingly. This course teaches physical education teachers, or those responsible for planning a field day, how to plan a field day that goes off without a hitch. This course is built around a proven system that covers every portion of field day planning from A to Z. Students will learn how to plan a field day step by step. Included in the course are all necessary instructions, documents that can be re-purposed, videos, exemplar planning packets, themes, activities, and many other valuable resources. The student taking this course will walk away with a plan of their own they develop using the information laid out in the course that they can use and repurpose throughout their teaching career for many field days to come. This is a practical and hands-on course.
Course Goals
On completion of this course, physical educators will be able:
To identify the importance of a field day for the school and community
To understand the components, steps, and methods involved in planning a field day
To understand the components, steps, and methods involved in proper communication with all stakeholders involved in a field day
To understand the components, steps, and methods involved in executing a field day
To understand useful indoor and outdoor activities for a field day
To evaluate exemplar field day planning strategies, games, and informational packets
To create a field day planning guide
To reflect on the experience of completing the field day planning guide
Standards
This course addresses the following standards:
Source: SHAPE America National Standards for K-12 Physical Education (2016).
Standard 1 - The physically literate individual demonstrates competency in a variety of motor skills and movement patterns.
Standard 2 - The physically literate individual applies knowledge of concepts, principles, strategies and tactics related to movement and performance.
Standard 3 - The physically literate individual demonstrates the knowledge and skills to achieve and maintain a health-enhancing level of physical activity and fitness.
Standard 4 - The physically literate individual exhibits responsible personal and social behavior that respects self and others.
Standard 5 - The physically literate individual recognizes the value of physical activity for health, enjoyment, challenge, self-expression, and/or social interaction.
Planning and executing a field day involves student participation during many phases of the process, including the students' actual participation in the field day itself. This means that students are going to touch all five of the national standards during participation in the field day planning process and participation in the day itself.

Need to get your Professional Development Credits approved by administration? Download the one page course description here.

Testimonials
"Even though I thought I was thinking and planning pretty well for my first field day, I really enjoyed taking this course to see that I was missing some important documents and rewording some current documents for clear communication to teachers, parents and students. Also I learned some new activities and stations that I can use during PE class or on Field Day. I know I need to think things through and work on getting all documents looking professional and well written for the best communication for the teachers, students and volunteers. Execution will also be the key! Hopefully with all the hard work ahead of time on the actually field day, I hope to enjoy seeing the students have a great time (take some pictures and videos) and not running around with my head cut off, haha." - Mischa
"I think this course is very valuable for any Physical Educator who has to plan a field day!!" - A. Branch
"The class provides abundant information and ideas to help start or reshape any field day program." - Linda Harb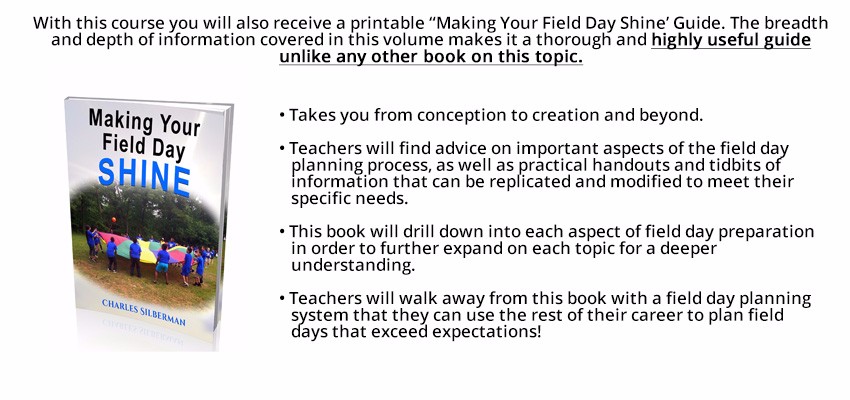 CEU Credit Available for this Course!
This course is available for CEU credits. If you are interested in receiving these credits through the college, click here for more information.
Your Instructor
Charles Silberman is a physical education and health teacher with 18 years of teaching experience. He has become a leader and advocates for incoming physical educators by running workshops on integrating literacy into physical education, teaching in limited space, and creating a field day that shines. Charles has advocated on these topics by presenting at staff in-services and conferences, assisting with new teacher orientations, and other initiatives.
Also, Charles teaches 5 other classes for PE Central, has four webinars for PE Central, and regularly contributes to the S&S Worldwide blog. Moreover, he has experience writing curriculum from scratch and writing published information specific to physical education in the state and nationally recognized publications and websites. Charles is the founder of physedsuperhero.com. Charles is also a contributing author to the book, "How to be an Outstanding Physical Education Teacher."
Feel free to reach out to Charles with any questions during any of his courses.