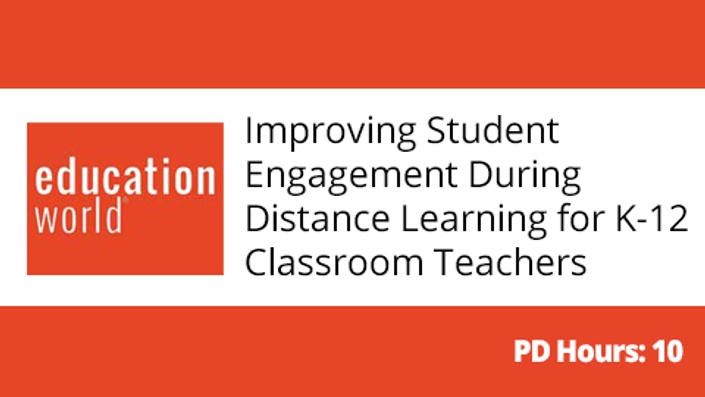 Improving Student Engagement During Distance Learning for the K-12 Classroom Teacher
Strategies for Classroom Teachers to Better Engage Students When Teaching Remotely
Testimonials:
"The course I took was concise, presenting me with a lot of knowledge and information that I previously didn't know about with regard to virtual teaching and learning. I was able to quickly adopt some of these technologies and best practices into my online teaching curriculum. I also appreciate how the course was laid out which allows for quick referencing in the event I forgot how to do something." - Keith S
This course will take approximately 10 hours to complete. If you have any questions about the course, please email us at "[email protected]".

Need to get your Professional Development Credits approved by administration? Download the course description to provide them here.
Target Audience: This course is recommended for K-12 teachers. This course would benefit new teachers, as well as veteran teachers who would like more tools and strategies for classroom management and increasing student engagement while teaching remotely and in the classroom.
Course Purpose/Objectives: The course explores and demonstrates practical ways to teach K-12 students remotely in the classroom. Objectives include:
Exploring the challenges of teaching remotely,
Understanding what practices are effective for student success
Understand how organization and structure increase engagement
Understand what factors contribute to student engagement
Explore various online tools that support engagement strategies
Improve knowledge of effective practices for teaching online
Understand the components of a successful online classroom
Learning Outcomes
1. Identify current challenges to teaching and learning remotely
2. Analyze and evaluate the effectiveness of multiple teaching strategies
3. Explore and use various online tools
4. Compare a variety of Learning Management Systems, establish a personal LMS and create a video tour of the features,
5. Describe strategies for improving Social Emotional Learning
6. Create 2 games for teaching students remotely
7. Create an easily accessible resource pages for materials, assignments, FAQs and how to communicate
8. Create a survey to increase engagement
9. Design a lesson that utilizes 3 - 5 engagement techniques
Course Description:
While remote or distance learning has been an educational option since the invention of the correspondence course, many teachers and students were propelled into teaching and learning remotely without much guidance, knowhow, or time to prepare. Now, it is a very real part of what is expected of today's teachers and students. This course is designed to familiarize participants with multiple online tools and strategies that increase engagement and success for students thrown into the remote learning environment.
Course time to Complete: 10 hours
Course assignments: Assignments are self-paced and meant to be taken in the order presented. Participants will need to view online documents and videos in order to respond to the concepts and materials presented in this course. Students will utilize various online tools for their responses
Technology Needed for the Course
A computer or tablet with video and sound capability will be needed to access the course material. In addition, you will need a working and current email address.
Viewing External Content:
At times throughout the course students will be instructed to visit external sites to view videos and/or articles. Each time external content will open in a new, separate

Need to get your Professional Development Credits approved by administration? Download the course description to provide them here.
Your Instructor
Laura has been teaching for 36 years, primarily with 2nd and 3rd grade students. Laura has been providing professional development for her district and school site for many years, bringing current theory and pedagogy in math, reading, and writing. She served as a trainer for the California Reading and Writing Project and the California Math and Science Project. For the past 4 years she has been an Instructional Specialist for the Fairfield Suisun Unified School District, providing instructional coaching, collaborative planning for lesson development, and ongoing professional development to both new and veteran teachers. She has been selected as Site Teacher of the Year two times for her leadership in bringing innovative teaching strategies to her students and colleagues.
Course Curriculum
Syllabus & Course Information
Available in days
days after you enroll
Module 1: Building Community
Available in days
days after you enroll
Module 2: Challenges and Benefits of Teaching Remotely
Available in days
days after you enroll