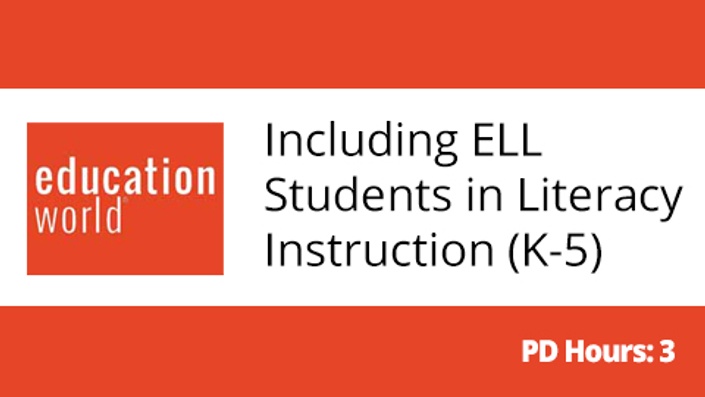 Including ELL Students in Literacy Instruction (K-5)
How to connect with and support both students and families
A Note from the Instructor
This course is for anyone who wants to learn more about how to meaningfully support their ELLs during instruction, but more specifically for mainstream teachers that need extra support in educating these students. I want to provide you with resources, tools, strategies, publishing industry knowledge, and statistics to help you not only grow as a teacher, but to help you make more informed decisions overall when it comes to matters surrounding your English Language Learners. I am here for any extra support or guidance that you need during this course and encourage you to let your passions shine through in your writing.
Welcome!

We are excited about your interest in taking this online course from Educational World. Below you will find a brief course description, the instructor's biography, and course FAQ's. We estimate that this course will take 3 hours to complete. Once you have completed it, you may request the 3 hours of Professional Development towards your teacher licensure re-certification. Use the one page description sheet below to share it with your administrators to make sure you can use this towards your Professional Development/Licensure plan. We hope you will find this course valuable and enjoyable. If you have any questions please email us at "[email protected]".
Enjoy!
Education World Team
Need to get your Professional Development Credits approved by your administration? Download the course description here.

---
Target Audience: Kindergarten through 5th grade educators. I have designed this online course for teachers, after school professionals or any educator looking to meaningfully include students in literacy instruction. Many of the strategies, tips and tools learned in this course can be immediately implemented with your students.
Course Purpose:
The purpose of this course is to support educators that work with students that are English Language Learners by providing them with information about ELL students, strategies for creating a welcoming environment, tools for meaningfully including students in literacy instruction, and guidance on connecting with limited-English speaking families. Upon completion of this course, educators should feel more confident in their ability to support their ELL students.
Course Description:
Participants of this course will learn not only how to meaningfully include their ELL students in literacy instruction, but also about the outside forces affecting these students, how to find quality literature that best represents them, and tips on how to connect with and support both students and families. Participants will be provided with practical strategies that can be immediately implemented with their students. The course is interactive and includes links to articles and scholarly writings, videos, slideshows, discussion posts, assignments, and instructor feedback.
Course Goals: The information provided in this course will teach you the following.
Articulate important background information about ELL students to increase overall understanding of how to better support students.

Expose educators to strategies for successfully finding quality literature that celebrates the diversity of their students and meaningfully includes ELL students in literacy instruction.

Provide information and access to tools and resources for ongoing support of ELL students in instruction and daily school life.
Technology Needed to Complete: You will need a computer with an updated browser to complete the course. In addition, you will need a working and valid email address.

Your Instructor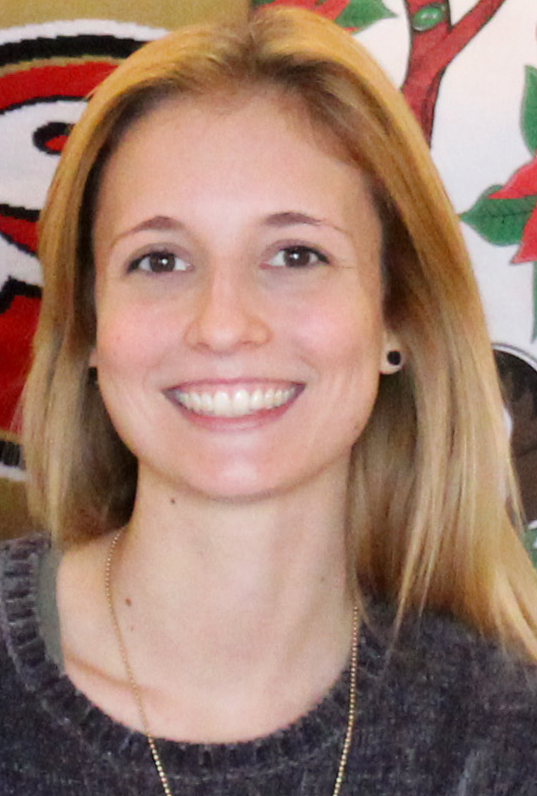 My name is Amanda MacDonnell and I am a former early childhood classroom teacher and lifelong learner. I'm certified to teach both P-3 and K-6 and have working proficiency in speaking Spanish. I graduated with my Bachelor of Arts in Early Childhood Education and Elementary Education with a focus in Sociology from William Paterson University of New Jersey. I recently received my Master of Science in Curriculum and Instruction from Western Governor's University where I began creating professional development courses. I spent my first few years out of school teaching in early childhood and loved every moment of being an early childhood teacher, especially when I realized how much they were truly capable of. Working in early childhood is where I found a particular passion for literacy instruction and quality literature. I made the decision to leave the classroom while I was in graduate school to work in the private/retail side of education so that I could have the opportunity to work with larger and more diverse groups of students of all ages. I currently work creating classroom library solutions by collaborating with hundreds of publishers to bring schools and teachers quality literature customized to their educational needs.
Course Curriculum
Course Syllabus and Introduction
Available in days
days after you enroll
Section 1 - English Language Learners: Support and Challenges
Available in days
days after you enroll
Section 2 - Creating a Welcoming Environment
Available in days
days after you enroll
"I like the strategy of guiding the student to make their own corrections and understand the rational behind the corrections. Focusing on the Assets and not the Deficits is a great reminder. Especially if the student is having a rough day. Noticing when the student self corrects is a big one; visible relief is in the expression... Ahh.... I finally got it!! These strategies work best for me as a substitute." - D.B.