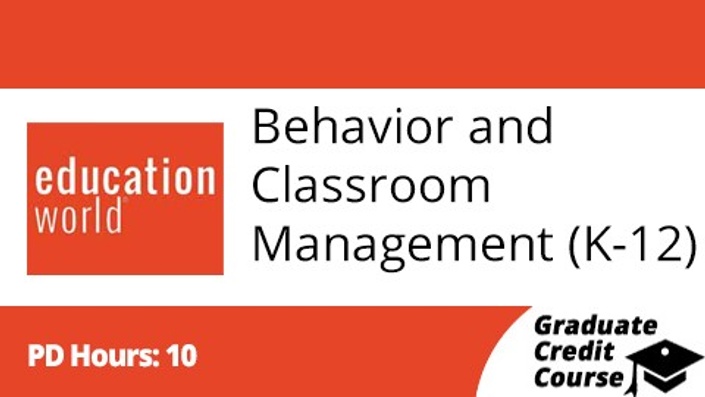 Classroom and Behavior Management (K-12)
Breakthrough Strategies to Teach and Counsel Troubled Youth
Welcome!
We are excited about your interest in taking this online course from Educational World and Youth Change. Below you will find a brief course description, the instructor's biography, and course FAQ's. We estimate that this course will take 10 hours to complete. Once you have completed it, you may request the 10 hours of Professional Development towards your teacher licensure re-certification. You can also purchase 1.0 Graduate Credit for an additional $55 from Seattle Pacific University after you complete the course (more details at the bottom of this page). Use the one page description sheet below to share it with your administrators to make sure you can use this towards your Professional Development/Licensure plan. We hope you will find this course valuable and enjoyable. If you have any questions please email us at "[email protected]".
Enjoy!
Education World Team
What to Expect from this Course:
Over 200 interventions to stop problems with behavior and related issues in classroom settings, including the latest techniques available.

What causes children and youth to behave the way that they do? You will explore the answers and reasons to this question as well as take away compelling lesson plans to help you manage your classroom. This 10 hour online professional development course will provide you real-world answers for the serious and continuous behavior and management issues you face every day within your classroom or program.
This behavior management course was designed for use with students and children ranging from age 5 to 18. These behavior interventions and methods are designed to work when conventional techniques fail. You will learn innovative, more effective tools for problems with aggressiveness, motivation, bullying and cyberbullying, classroom management, work refusal, violence, disrespect, defiance, withdrawal, ADHD, delinquency, and school failure.

The online class comes with a workbook full of ready-to-use lesson plans and reproducible worksheets.

Target Audience: This online course is designed for teachers, special educators, principals, social workers, school counselors, psychologists, school nurses, juvenile justice workers, after school staff, residential treatment workers, family therapists, juvenile court staff, juvenile detention and corrections workers, teaching assistants, paraprofessionals, foster parents, and drug and alcohol counselors.
Course Purpose: The purpose of this e-course is to deliver relevant, effective, ready to implement strategies to turnaround students' emotional, school and social problems. This includes poor motivation, school failure, bullying, work refusal, tardiness, defiance, absenteeism, underperforming, apathy, delinquency, depression, ADHD, Asperger's, violence, peer conflict and much more.
This is the one behavior and classroom management course that covers all the problem areas that your K-12 students present. This online training course delivers hundreds of updated strategies to more effectively prevent and manage students' emotional, school, behavioral and social problems. This class has practical, real-world, ready to use now answers for the most serious and persistent issues in today's classrooms. This will help you manage the problems that you face every day.
Developed for use with adolescents and children ages 5 to 18, these powerful interventions are designed to work when conventional techniques fail. Working with difficult students doesn't have to be so difficult. This course shows you how to be successful and problem solve.
Course Description: This behavior management online course consists of 10 hours of videos, plus you will receive a workbook full of ready-to-use behavior change lesson plans and reproducible worksheets. This online videos and material in the course provides 200 powerful and effective strategies for you to use, plus it shows you what makes troubled and problem students "tick"-- and how to best help them succeed.
The course includes lecture, discussions, demonstrations, activities, displays and more.

Course Goals:
• To learn 200 ready-to-use, more effective strategies for students' emotional, school, social and behavioral problems, including problems such as apathy, bad attitude, disrespect, delinquency, work refusal, tardiness, cyberbullying, negativity, defiance and more.

• To better understand what causes and sustains students' emotional, school, social and behavioral problems, and how to more successfully prevent and manage these concerns.

• To learn updated, more effective Social Skills methods for preventing and managing the most severe behavior problems including violence, delinquency, conflict, defiance, rule violations, disruption, verbal abuse, profanity and more.

• To learn updated, more effective Coping Skills methods for preventing and managing students' emotional and family problems, especially those that are the most severe and difficult to manage, such as depression, anxiety, withdrawal, selective mutism, tantrumming and more.

• To learn innovative, new School skills methods to improve student problems, especially those that are often considered hard or impossible to improve, including motivation, attitude, respect, work refusal, apathy, underperforming, absenteeism, truancy and school failure.



Need to get your Professional Development Credits approved by administration? Download the course description to provide them here.
Your Instructor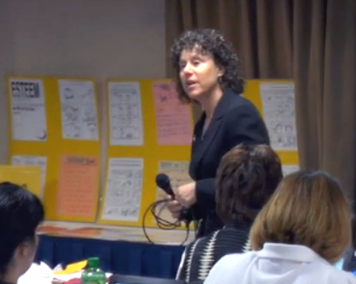 Ruth Herman Wells, M.S. is a no-nonsense instructor who won't waste a second of your time. She has trained thousands of youth professionals over more than 20 years. In 2011 several groups rated Ruth as one of the top 10 speakers in the U.S. for K-12 education and motivation.
Ruth is the director of Youth Change Workshops, a popular workshop and keynote presenter, plus she is a columnist and the author of dozens of books on working with troubled and challenged children and youth.

Ruth is a popular keynote speaker at mental health and K-12 education events, and is the author of dozens of books, magazine articles, columns, videos, posters, and ebooks. Ruth's work has been covered in SEEN Magazine, The Orlando Sentinel, The Christian Science Monitor, The Monterey Herald, The Portland Oregonian, Adolescence Magazine, The Corrections Compendium, and the Child Welfare Report.
Testimonials
"I have a very challenging class of 5 and 6year old students. We have implemented a reward system and individual students have their own behaviour plans. The students who are keen to learn are missing out as most of our time is taken up dealing with managing behaviour. This is exhausting and my Education Assistant was in tears on the last day of term just thinking about coming back. This course seems to be the light at the end of the tunnel. Thanks. 😊 " -C.V.

Earning Graduate Credit for this Course
The graduate credit for this course is through Seattle Pacific University, but direct any initial questions about credit to [email protected] The cost to receive graduate credit will be an additional $55, which is paid before completion of the course. If you plan on applying for graduate credit for this course, your forms and homework assignments will be expected to be returned all at one time by postal mail to Youth Change (EdWorld Course), 275 N. 3rd Street, Woodburn, OR 97071. We regret that the homework and registration forms will not be accepted in any other way. (This procedure is necessary to ensure proper receipt of your submissions.) Please keep a copy of what you send and follow up by email to confirm your homework and forms reached us. Be sure to include your name and make sure it matches or references the name used to order the online class. To earn credit, you must submit the forms and homework within one year of enrolling.