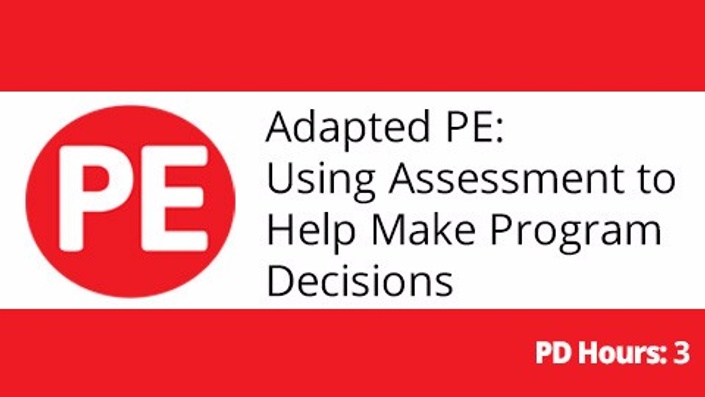 Adapted PE: Using Assessment to Help Make Program Decisions
Using Assessment to Help Make Program Decisions for Children with Suspected Disabilities
Welcome!
We are excited about your interest in taking this Adapted PE Ecourse from PE Central. Below you will find a brief course description, the instructor's biography, and course FAQ's. We estimate that this course will take 3 hours to complete. Once you have completed it, you may request the 3 hours towards your teacher licensure recertification.
We know you will find this course valuable and enjoyable. If you have any questions please email us at [email protected]
Best of Luck!
Mark Manross, Executive Director, PE Central
Course Details:
This online course is a self-paced experience. It is worth 3 professional development points/hours. Instructor: The course has been designed for physical educators charged with assessing learners with disabilities. This course is designed for teachers who may not have been exposed to assessment as a tool to assist in identifying unique learner needs in physical education.
Course Purpose: The materials will provide some basic information on assessment, followed by statistical concepts needed to take part in data driven decision making, and finally a model for making educational decisions as an active member of the individualized education committee (IEP).
Course Description: Participants will view an introduction video, then complete three sections (broken down into five assignments), read and review materials identified online, and then complete three assessments to measure learning.
Course Goals: On completion of this course participants will be able to:
Identify key concepts related to the use of criterion referenced testing in adapted physical education.
Identify key concepts related to the use of content referenced testing in adapted physical education.
Identify key terms and concepts related to basic statistical concepts needed to take part in individualized education planning meetings.
Identify key aspects in a situation where educational decision making for children suspected to have unique needs in physical education is occurring.
Reading Materials: All reading materials are available to download from within the course module.
Technology needed to complete: You will need a computer (perhaps a printer if you prefer to have materials to take notes on) with an updated browser and Adobe Flash Player to complete the e-course. In addition, you will need a working and valid email address.
Need to get your Professional Development Credits approved by administration? Download the course description to provide them here.

Your Instructor
Francis M. Kozub is a full time Professor at the College at Brockport. He started his career as an Elementary/Adapted Physical Educator in the Public Schools in New York from 1986-1994. Since completing his PHD in 1997 from Ohio State University, Dr. Kozub has worked in University settings teaching mainly Graduate courses in Physical Education Pedagogy and Adapted Physical Education. Currently, Dr. Kozub is the Graduate Coordinator teaching in the Adapted Physical Education Masters track.
You can email him at [email protected]
Testimonials


Middle School Teacher
"This course was an excellent resource in understanding what is needed to know and understand while developing assessments for Adapted PE. It was also very useful in understanding the information for participating in IEP meeting in order to advocate for my PE program and for my students. Very user friendly and convenient!"
Michelle F.
Elementary PE Teacher
"This was well developed and paced with opportunities to check for understanding and resources to support professional needs."
Mary Beth Myers
High School PE Teacher
"This course was a great review of material that I had in college, but needed to sharpen. It also provided a significant amount of new information and material that I will use to prepare for the challenges of day to day planning and assessment. Thank you! What I got was very useful. But I need more time to explore the resources that were provided. I hope that there is more where this came from!"
Check out Frequently Asked Questions Here!
(You will be prompted to enroll for free in the S&S Online School)