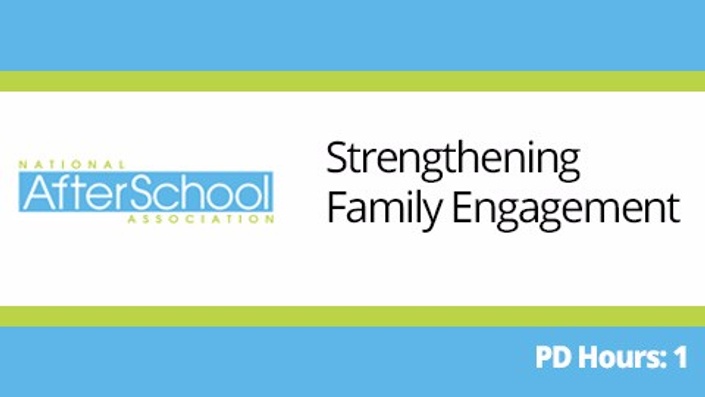 Webinar: Strengthening Family Engagement
A National AfterSchool Association PD Opportunity
Course Purpose:
The purpose of this course is to provide educators and out-of-school time professionals inspiration, ideas and research that supports the positive impacts of family engagement within their programs. Parents and families of our students have busy days, but being involved in the activities and education of their child is something that can have a huge effect on the success of each child and your program as a whole. This course will help you identify opportunities that will work for your families and strengthen your community.
Target Audience:
We have designed this online course for out-of-school time professionals in before and after school, summer camps, school age or recreation programs.
Course Description:
This webinar course from the National AfterSchool Association was created to inspire out-of-school professionals to get families more engaged in the education and learning opportunities of their children in afterschool. Erika Petrelli, the presenter, will challenge you to think about the families in your program and how you can create a number of opportunities for them to be involved in their child's out of school time. You will walk away with a list of ideas for support materials for families, as well as activities and events you can try.
Erika Petrelli is the Sr. Vice President of Leadership Development at The Leadership Program.
*Certificates of Attendance for this professional development will be distributed on the 1st and 15th of each month or the closest business days following those dates. In order to receive your certificate, email [email protected] that you have finished the webinar course.

Your Instructor

The National Afterschool Association - the voice of the afterschool profession – has over 22,000 members across the country and hosts the most comprehensive program of professional development opportunities for afterschool professionals anywhere in the United States. NAA meets the needs of both emerging and experienced afterschool professionals through enhanced training and development, increased communication, outreach and membership engagement.
Check out Frequently Asked Questions Here!
(You will be prompted to enroll for free in the S&S Online School)