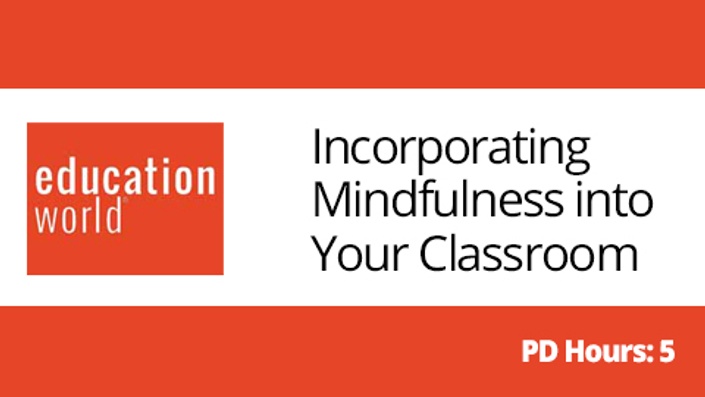 Incorporating Mindfulness into Your Classroom
How to Incorporate Meditation & Breathing Techniques into Your Classroom In-Person or Remotely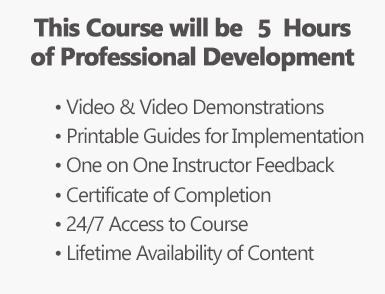 This course will take approximately 5 hours to complete. If you have any questions about the course, please email us at "[email protected]".

Need to get your Professional Development Credits approved by administration? Download the course description to provide them here.
TESTIMONIALS
"I LOVE the class videos! Wonderful, practical, and easy to use ideas for the classroom! Bravo! Very impressive yet simple"
- G.D.
"This is a great introductory course in using mindfulness in the classroom. All teachers and students will benefit from using mindfulness. The instructor provided many good examples of mindfulness and it was very easy to learn even for beginners. I have used mindfulness in my yoga classes for years and the students love this time to of relaxation. I recommend this course to all teachers at all level regardless of their area of expertise."
- D.R.
"Thank you for arranging this online course, which is very beneficial for us, as we have been using mindfulness as one of the key strategies within our support program for helping students with special needs in mainstream schools. It is of course beneficial for our employees as well, and the teachers and neurotypical students within the same classroom!" - C.B.

"This is such an amazing program! It is filled with lots of information, tons of helpful breathing techniques and great resources that my students and myself will benefit from. Thank you for offering this!" - Heather J.
Target Audience:
This course is recommended for classroom teachers, physical education teachers, homeschooling parents, and out of school time professionals that want to learn how to bring mindfulness tools into the class either in person or remotely. The specific mindfulness techniques in this course are applicable to children ages 4 and up.
Note: In the age of COVID-19, these activities can be taught online and are a great way to help kids deal with the stress of being at home during the pandemic.
Course Purpose:
You may already be aware of the growing field of mindfulness. Mindfulness is being aware of the present moment, while calmly accepting your feelings, thoughts and bodily sensations. Mindfulness programs, which often encompass yoga, meditation and breathing techniques, are now in high demand in all over the United States - especially now as children are experiencing high stress levels during COVID-19. Besides stress reduction, mindfulness skills help kids improve their memory, organizational skills, reading and math scores.
Moving stress from toxic to tolerable involves increasing the number of protective relationships in children's lives and helping them learn how to regulate their nervous system, which is where mindfulness comes in. This skill allows children to manage their internal world regardless of what comes at them externally, which is a concept that even young children can understand.
Course Description:
Knowing how important mindfulness is to the overall well-being of children, we are thrilled to offer this exclusive course to teachers and PE educators. You'll gain in-depth knowledge into what mindfulness is, learn about the benefits it can offer your students, and then dig into how to actually teach these techniques. There is no experience needed in yoga or meditation to take this course. You can easily teach these mindfulness tools using our easy-to-follow videos and resources.
This course will start by diving into what mindfulness means and how you can help children develop mindful habits that will last a lifetime. Pretzel Kids mindfulness expert, Patricia Chilangwa, will then guide you through a video tutorial on how to bring mindfulness into your classroom. Patricia is uniquely qualified to teach this mindfulness course. A yogini since 2000, she holds a Bachelor of Science Degree in Psychology from Boston College and is pursuing a Master's Degree in Mindfulness Studies at Lesley University. She draws on her years of experience as a preschool and elementary school teacher to design and implement developmentally-appropriate curricula for children of all ages and abilities. Patricia is joined by Pretzel Kids yoga founder, Robyn Parets, who will lead you through a series of specific breathing techniques and visualizations (meditations)* that will give you a treasure chest of options for the students you work with.
You'll also receive our list of proprietary pranayama techniques so you can start teaching these right away to your students. Plus, you'll get our resources on teaching mindfulness to children and teens, as well as additional resources from the Center for Mindfulness at the University of Massachusetts Medical School.
*Please note: A portion of the videos in the course take place in an actual Pretzel Kids yoga training class and the teachers are often laying on yoga mats. We understand that the children in your classes may be sitting in chairs and these breathing techniques can be done laying down, in a chair, or even standing. However, if you are teaching these techniques remotely, you can ask the students to clear a space in their homes to lay down.
Goals & Objectives:
Articulate the benefits of mindfulness for students ages 4 and up

Familiarize teachers and educators with the basics of breathing techniques

Familiarize teachers and educators with the basics of short visualization (meditation) techniques

Provide adequate tools and resources for teachers and educators to adapt mindfulness for the specific needs of their classes, making it relative to classroom content and beneficial to both teachers and their students.
Learning Materials:
Most of the materials in this course comprise original Pretzel Kids® content, including videos demonstrating techniques; visual and textual descriptions/explanations of techniques; breathing exercises; and readings compiled from first- and secondary-source materials. Additional reading materials will also be a part of the course. All materials will be housed in the online course module and available for download.
Technology needed to complete:
You will need a computer, tablet or mobile device with to complete the course. In addition, you will need a working and valid email address.
Need to get your Professional Development Credits approved by administration? Download the course description to provide them here.

Your Instructor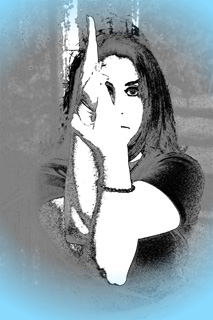 Hi everyone!
I'm Robyn Parets and I'm the Founder and CEO of Pretzel Kids®. I'm also a mom of three boys, certified yoga teacher, former yoga studio owner, and mindfulness teacher. When I'm not creating new kids yoga games and curriculum material, I can be found teaching yoga or creating wellness and children's educational content for our Pretzel Kids® teaching community.
Course Curriculum
First Section
Available in days
days after you enroll
Additional Course Materials & Certificate
Available in days
days after you enroll