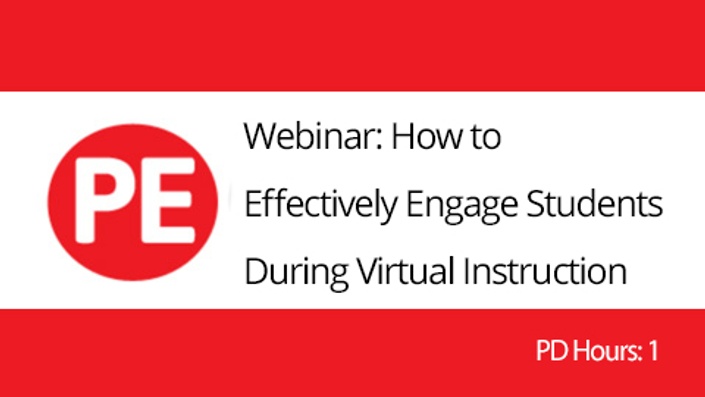 Webinar: Cameras Off! Cameras On! How to Effectively Engage Students During Virtual Instruction
Testimonial:
Thank you for this webinar, great information and platforms that can be used for PE. I appreciate your time, knowledge, and dedication in sharing and helping us through some difficult times.
- Lisa S.
Teaching physical education, health, or any subject remotely is hard. If your anxiety level and frustration skyrocket when it comes to engaging students virtually, you are not alone. Whether it is during the online portion of a hybrid model or while teaching a fully remote program, the same lack of engagement issues keeps coming up. For example, students have their cameras off, students are not participating with cameras on, students are not turning in work, students are doing other things during PE time, and on and on it goes. And this is driving you mad.

This webinar is your antidote. This webinar is broken down into five parts to help you learn the most effective ways to increase engagement. Those sections include defining the five levels of engagement, quick engagement ideas, effective engagement teaching strategies, effective technology to up engagement, incentives and rewards that work, and engaging students with needs. After completion of this 1-hour webinar, you will walk away with a myriad of practical tips and strategies to help improve your student involvement and turn their engagement up several notches! You will be able to download the presentation in PDF form so you can reference the material at any time. Stop banging your head against a wall and learn how you can make online learning more meaningful and fun for you and your students by taking this webinar!
Certificates of Completion for this 1 hour webinar will be distributed as soon you fully complete the course by watching the video all the way through. It should generate automatically and show up in your in-box as a certificate from Teachable. If you do not see your certificate, email [email protected] that you have finished the webinar.

Your Instructor
Charles Silberman is a physical education and health teacher with 18 years of teaching experience. He has become a leader and advocates for incoming physical educators by running workshops on integrating literacy into physical education, teaching in limited space, and creating a field day that shines. Charles has advocated on these topics by presenting at staff in-services and conferences, assisting with new teacher orientations, and other initiatives.
Also, Charles teaches 5 other classes for PE Central, has four webinars for PE Central, and regularly contributes to the S&S Worldwide blog. Moreover, he has experience writing curriculum from scratch and writing published information specific to physical education in the state and nationally recognized publications and websites. Charles is the founder of physedsuperhero.com. Charles is also a contributing author to the book, "How to be an Outstanding Physical Education Teacher."
Feel free to reach out to Charles with any questions during any of his courses.