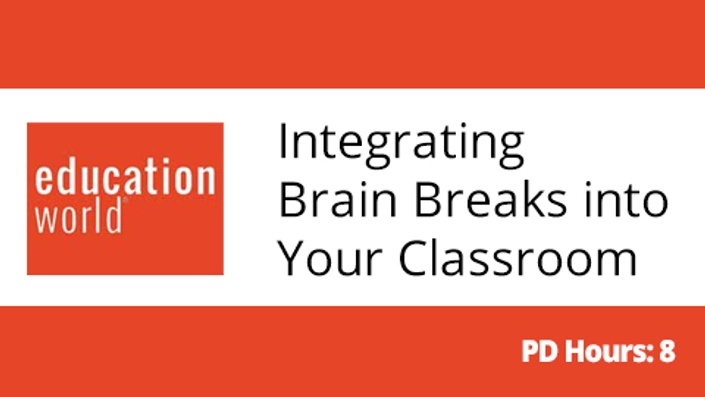 Integrating Brain Breaks and Physical Activity in All Classrooms
Helping Your Students Succeed Through Movement
Why Movement in the Classroom?
Research shows that physical activity affects the brain in ways that allow students to be more engaged and ready to learn. Brain science shows that if a child is sitting too long, s/he missing out on vital movements that increase brain function and activity. Creating active opportunities throughout the school day for students increases their academic performance, their attendance, and their positive behavior. (ActiveSchools.org)
Welcome!
We are excited about your interest in taking this online course from Education World. Below you will find a brief course description, the instructor's biography, and course FAQ's. We estimate that this course will take 8 hours to complete. Once you have completed it, you may request the 8 hours towards your teacher licensure re-certification. If you have any questions please email us at [email protected].
NOTE: You will need access to a small group of children or friends or family to complete the course as you will be asked to test your own brain break.
Best of Luck!
Your Friends at Education World
Need to get your Professional Development Credits approved by administration? Download the course description to provide them here.

---
Target Audience
This course has been designed for any K-12 classroom teacher, curriculum developer or administrator looking to increase the time that children are physically active throughout the school day.
In this course, we focus on developing a working knowledge of the importance of integrating physical activity, and specifically brain breaks (also known as brain boosts, brain blasts, brain energizers, etc.) for overall student success and how to implement a myriad of brain break and movement strategies with your students to keep them active and engaged while learning their curricular outcomes. Our instructor is available to help you throughout this course with any questions you may have.

Course Purpose
The purpose of this course is to introduce the importance of physical activity and demonstrate, through hands-on experiences and brain breaks (also known as brain boosts, brain blasts, brain energizers, etc.), how movement integration strategies can be implemented in a classroom setting. We focus on developing overall student success through implementing a myriad of brain break and movement strategies that will keep your students active and engaged, while learning their curricular outcomes.
Course Description
The push to integrate physical activity across all content areas and grade levels is a rapidly growing movement. Not only is it a brain-based teaching practice, but it has also proven to help students achieve success at higher academic levels, create higher levels of motivation, and encourage higher attendance rates. With a much more clear understanding of how the brain prefers to learn, rising levels of inactivity, and how physical activity enhances academic achievement, it is essential that all educators be able to implement movement strategies in any learning context. This course will help you understand the importance of physical activity in a general education setting and provide practical strategies that you can use to integrate physical activity, and specifically brain breaks, into any curriculum. Upon completion of this course you will develop your own brain breaks and use them effectively in your teaching. Our instructor will be available to help you throughout this course with any questions you may have.
Course Goals
By the end of this course, the student will be able to:
identify the positive effects of physical activity, and specifically brain breaks,on students' personal, social, and academic growth.

analyze the process for implementing physical activity into the general classroom.

create several brain breaks that can be used in your classroom setting.
Standards
This course, in part, helps to address the following guideline:
Guideline 4 - The physically literate individual exhibits responsible personal and social behavior that respects self and others. (SHAPE America Guidelines for Physical Activity)
Extended periods (periods of two hours or more) of inactivity are discouraged for children, especially during the daytime hours.
The Center for Disease Control Guidelines for Physical Activity for children and adolescents: It is important to encourage young people to participate in physical activities that are appropriate for their age, that are enjoyable, and that offer variety.
This course can be a stepping stone for those students who are trying to achieve goals related to wellness and health. It will provide educators with the knowledge, skills, and creativity necessary to effectively integrate higher levels of physical activity through brain breaks into their general education setting so that their students not only maintain health-enhancing levels of physical activity but also succeed academically.
Need to get your Professional Development Credits approved by administration? Download the course description to provide them here.

Testimonials
"I would recommend this course for all teachers at all levels. I have used stretching breaks in my classes for years, and this class provides the evidence to support how physical activity breaks lead to improved learning. After taking this course, I want my entire school corporation to adopt brain breaks."

"I took this course and gained a great deal of knowledge. I enjoyed all the helpful information that I learned by taking the course. It will be highly recommended to colleagues of mine. Thanks! - Chad G
"My first exposure to brain breaks and I loved it. You got me hooked. I have been teaching for over 30 years and it's always refreshing to not only learn new things but be able to apply them immediately. Brain breaks are very doable activities that I can incorporate in my lessons. They are good for students as well as the teacher. I was just surfing the net for some PD and so glad that I came across this. I will spread the word." -Catherine W.
"I really enjoyed the creative ideas that was shared. I know I will use these brain break ideas in my classroom."
Your Instructor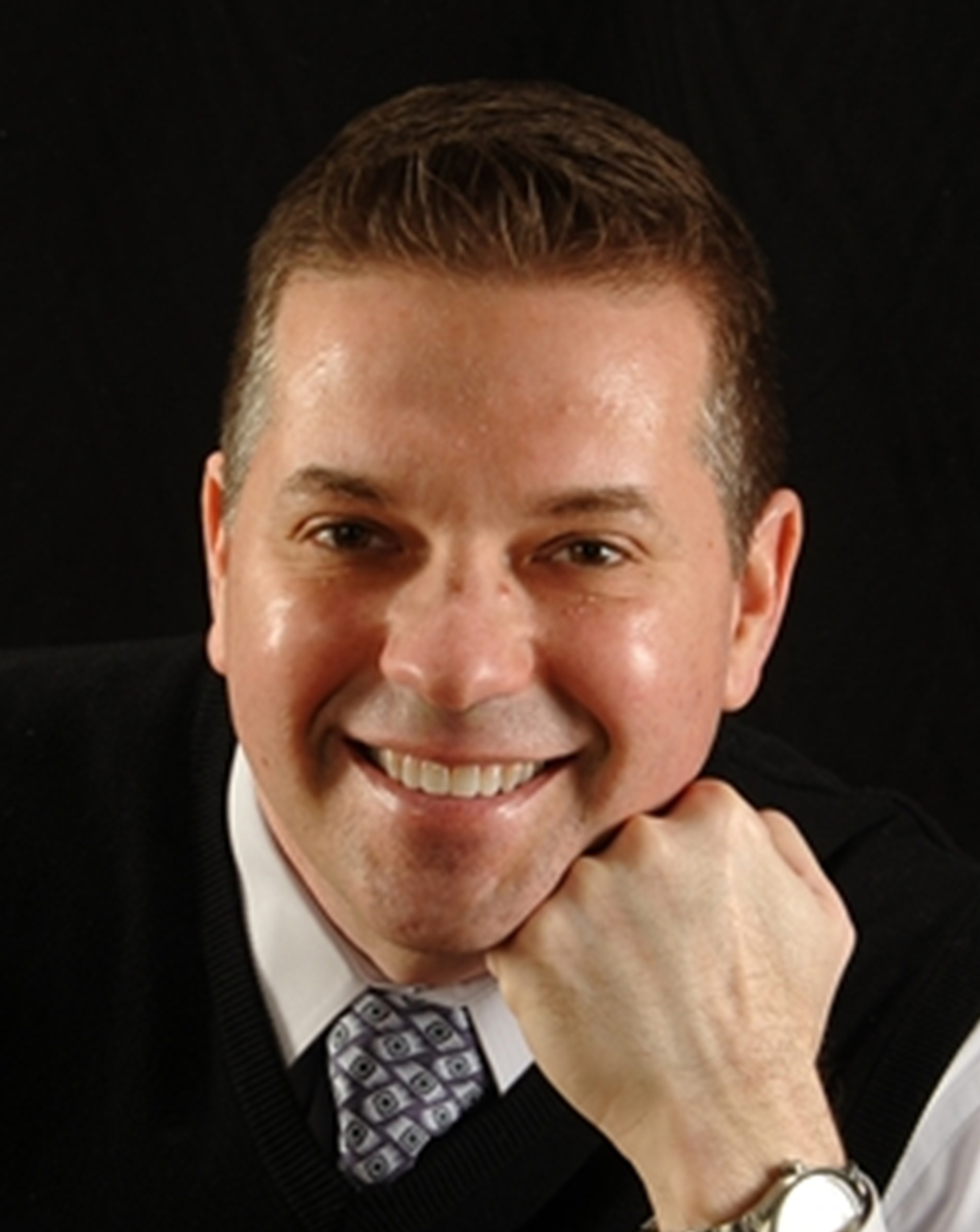 Mike Kuczala is the coauthor of the Corwin Bestseller and Association of Educational Publishers' Distinguished Achievement Award nominated, The Kinesthetic Classroom: Teaching and Learning through Movement, a book and philosophy that has changed the view of teaching and learning around the world.Mike's 2ndbook,Training in Motion: How to Use Movement to Create an Engaging and Effective Learning Environment, was released in 2015 (AMACOM) and Ready, Set, Go! The Kinesthetic Classroom 2.0(Corwin) was released in the summer of 2017. President of Kuczala Consulting and Academic Director for the Regional Training Center, an educational consulting firm based in Randolph, New Jersey, Mike has become an in-demand keynote speaker and consultant at international conferences, school districts and corporations. His SRO presentations have been experienced in such diverse settings as The East Asia Regional Council of Schools, The Francis Marion University Center of Excellence to Prepare Teachers of Children of Poverty Summer Institute, The American Society for Training and Development, The Forum for Innovative Leadership, The Association for Supervision and Curriculum Development, and the Society for Health and Physical Educators.
An expert in training, training design, and effective presentation, he has designed or co-designed, four of the most successful graduate courses in the history of the Regional Training Center. Motivation: The Art and Science of Inspiring Classroom Success, Wellness: Creating Health and Balance in the Classroom, The Kinesthetic Classroom: Teaching and Learning through Movement, and The Kinesthetic Classroom II: Moving Across the Standardsare facilitated by a cadre of more than 70 trained graduate instructors who have taught thousands of teachers the key principles of instructional movement, motivation, and wellness.
As a graduate instructor, keynote speaker, and workshop presenter, Mike regularly facilitates professional development programs in both corporate and educational settings in the areas of motivation, presentation skill, using movement to enhance the learning process, brain-based teaching and training, differentiated instruction and training, enhancing student thinking, and topics related to wellness and stress management. His engaging and practical professional development programs have been enjoyed by tens of thousands of teachers, administrators, corporate executives, and parents around the world over the last decade.
For more information please visit his website at www.mikekuczala.com.