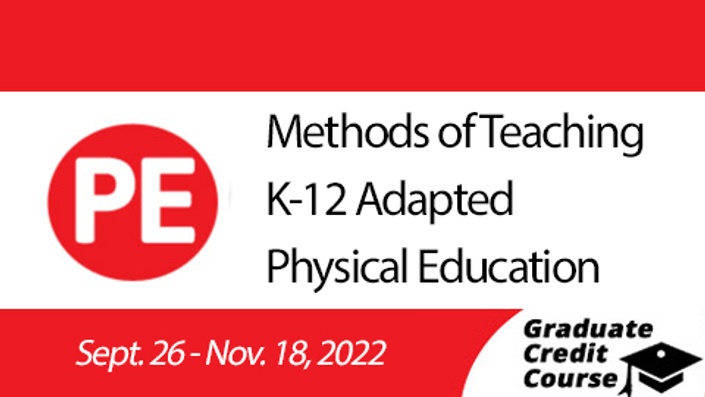 Methods of Teaching K-12 Adapted Physical Education Grad Course (Fall 2022)
Course takes place from Sept. 26 - Nov. 18, 2022 (8 weeks). You must register by Sept. 26, 2022.
Testimonials:
I really did enjoy the course and the materials were awesome. Jennifer, our instructor, did a great job.!! - Mark C.
The course begins on Sept. 26 - Nov. 1, 2022 (8 weeks). You must register by Sept. 26, 2022.
Once you register, if you wish to apply for graduate credits, you will also be sent instructions to register at Adams State University. If you are obtaining graduate credits through ASU, there is an additional associated cost of $165. There is no required textbook for this course. Please register for the graduate credits DURING the course.
This course is non-refundable, by registering you are committing to the workload of an 8 week long graduate level course.

Need approval from your administration for this course? Click here
We are excited about your interest in taking this graduate level course from PE Central. Below you will find a course description, the instructor's biography, and course FAQ's. This course will last 8 weeks and, if you wish, you can apply for 3 graduate credits (an additional $165) from Adams State University located in Alamosa, Colorado. Please do this during the course as opposed to waiting until the end of course. If you have any questions about the course, contact us at "[email protected]".

Mark Manross, Executive Director, PE Central
---
COURSE DESCRIPTION:

Principles and practices of adapted and inclusive physical education emphasizing the nature and needs of students with disabilities will be highlighted. History, recent legislation, identification, assessment and individualized education programs will be included. Effective teaching methodology, management "best practices" and inclusionary techniques for the success of all students will provide the main focus. Students will leave with requisite knowledge necessary to assess, prescribe and modify activities for maximum inclusion and the teaching strategies necessary for successful program implementation.
STUDENT LEARNING OUTCOMES:
Upon completion of this course, the student will be able to:
Student Learning Outcomes (SLOs)

SHAPE America National Teaching Standards

Adapted Physical Education (APE) National Standards

Provide definitions, describe the characteristics, types and potential causes of various disabilities (cognitive, physical and behavioral).

1.b,1.c,1.d,1.e

1,2,3,6,9,10 and 11

Explain the history of inclusion in physical education as well as the lawsuits which led to the legislative mandates relating to special education, as well as the Adapted Physical Education National Standards.

1.b, 1.f

5

Describe the features of effective assessment for students with disabilities in physical education as well as the placement and IEP processes.

TGMD-3

Brockport Fitness Testing

APEAS

GLOs + Assessment = IEP goals

Authentic Assessment

5.a, 5.b, 5.c

4, 6, and 8

Describe/understand the purpose of inappropriate behaviors and provide potential strategies to manage behaviors of students with disabilities in the physical education setting

3.c, 3.f, 4.a, 4.c, 4.d

2, 6, 8, 11, 13, 14 and 15

Describe/understand Universal Design for learning including differentiated instruction in the physical education setting.

3.a, 3.b, 3.c, 3.d, 3.e, 3.f

1,2,6,7,9, 12

Describe how to appropriately use support personnel for students with disabilities in the physical education setting.

Peer tutors (same age/cross age)

Paraeducators/professionals

College students

1.b, 4.a, 6.b, 6.c

6, 13 and 15

Describe various strategies for including students with disabilities, including basic skills, sport skills, recreation and leisure skills and health and fitness skills.

oModifying lesson plans providing adaptations to equipment, rules, environment and instruction

3.a, 3.d, 4.b, 4.e

1, 2, 3, 4, 6, 7, 8, 9, 10 and 12
READINGS and INSTRUCTIONAL RESOURCES: All reading materials and other resources are available in the LMS.
COURSE REQUIREMENTS:
In order to receive a passing grade, the participant must complete the following course requirements:
1. Assignments: A number of different learning activities will ensure participant engagement and learning in the course materials. These include:
a. What is a Disability
b. What is adapted physical education
c. Film analysis
d. Rubric design for motor skills and behavioral expectations
e. Description of strategies for behavior management
f. Implementing the Universal Design for Learning
g. Writing appropriate annual goals and short-term objectives
2. Culminating project: The final project is an Information packet that might be used to provide information on a specific student with disabilities to a general physical education teacher or an instructional assistant who works with a student on a daily basis.
3. Discussion Posts (4 @ 5 points each): You will be involved in five discussion board conversations and expected to post to receive credit. Each post is worth 10 points for a total of 40 points, or approximately 15% of your grade.
Need to get this course approved by your administration and PD Coordinator? Download the course description here.

Your Instructor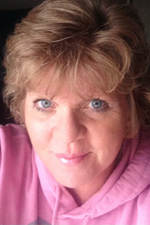 Jennifer has taught K-12 physical education for 12 years, including 5 years in adapted physical education. Earned NBCT in 2006. After earning her PhD in curriculum and instruction in physical education in 2014 from Arizona State University (ASU), she taught higher ed PETE and other kinesiology courses for six years at ASU, Texas A&M San Antonio, and Northern Arizona University (NAU). She is currently working as an adapted physical education specialist, preK-12, for Mesa Public Schools in Mesa, AZ. She has presented at SHAPE, Southwest district as well as our AZHPE state organization several years in a row.
Email: [email protected]